Wyatt Crosby: Onto the next level
7.5%. That is the percentage of high school baseball players that make it to the next level of NCAA sports. Athletes work day in and day out to perfect their craft and make themselves the best player that they can possibly be.
One GV athlete in particular is now part of this 7.5%.
His name is Wyatt Crosby.
---
Wyatt is 18 years old and has been here at Golden Valley since his freshman year, playing baseball for all 4 years as well. In total, he has been playing baseball for 13 years, striving for this final goal that he has now achieved.
Wyatt hasn't only played baseball. He's experienced in hockey, soccer, and football as well. In fact, he played football here for his freshman year before fully devoting his time to baseball.
"
Wyatt provides everything to the team: Athleticism, baseball IQ, and dedication towards getting better.
— Head Coach Adrian Rios
All of these sports have one thing in common, they require teamwork and leadership. Junior Alcaraz, a current and longtime teammate says "Looking back when we were on the same travel team to now, he has grown so much as a person, player, and teammate."
In order to have a dream– let alone chase one– there needs to be a sort of catalyst in the person's brain to activate that "want". Wyatt's catalyst comes from when he played in the Dominican Republic, " I knew as soon as I got the opportunity to play in the Dominican Republic, that I would have to take it seriously and it could be the best route for me to take going forward."
Not many athletes get the chance to play in prestigious baseball countries like Wyatt did.
The Dominican Republic has produced many baseball prospects like Edward Cabrera, Vladimir Gurerro Jr and Sr, and Juan Soto. Wyatt was fortunate enough to be one of the few that does, and he saw it as a sign.
---
Just like most other athletes on campus, Wyatt is a student first, athlete second.
Wyatt has had over a 3.5 GPA his entire high school career, even during the struggles of the pandemic. Coach Adrian Rios comments, "Wyatt is an exceptional student-athlete…" This characteristic created Wyatt to make sure at his college, he could not only be successful in baseball, but education. His education for that matter will be in Sports Management. He has the goal to use the knowledge that he will attain to coach or manage a team of his own when his playing days are over.
Coach Adrian Rios, the head coach for the past 2 years at Golden Valley has had the chance to see Wyatt develop in his prime at GV. "Wyatt provides everything to the team: Athleticism, baseball IQ, and dedication towards getting better."
Athletes have long term goals and goals for the near future. "For my last high school season, my main goal is getting our team to the playoffs…" Golden Valley has yet to make the playoffs for baseball, and with this year's squad, they are hopeful to get their names on the map.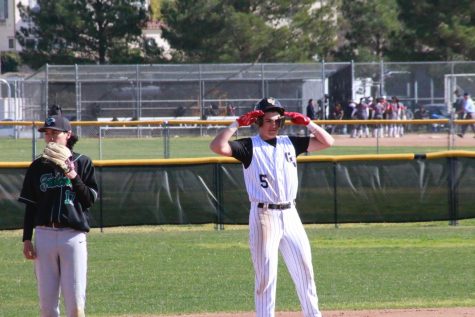 ---
His commitment to California Lutheran University came on January 19, 2023. Wyatt had great conversations with head coach Marty Slimack, which eventually sealed the deal for him. Wyatt committed to play as a catcher, arguably the most important position on the field.
Cal Lutheran is a private college located in Thousand Oaks, California. Established in 1969, it is a fairly new university for the state of California. In the athletics scene, Cal Lutheran is a National Collegiate Athletic Association (NCAA) school. Within the NCAA, they are a Division III team. Cal Lutheran was in the top 20 of all Division III schools in the NCAA in 2020, and they took the College World Series Division III Championship in 2017.
"I chose Cal Lutheran once they told me I would get a shot to play as a freshman…" Wyatt is moving forward to play with a great program, which unlike most colleges that recruit freshmen, are giving him the big opportunity to take his shot as a freshman.
Golden Valley's first baseman, and longtime teammate of Wyatt, Ben Strassner, has a very positive outlook on the rest of this season. "I anticipate Wyatt to do huge things for us this year and be a force within our league… He's one of the hardest workers I know and his drive to get better is unmatched."
Golden Valley's baseball season is still in its early stages, and with valuable players such as Wyatt, success is in the sights for the squad. Wyatt, good luck at Cal Lutheran and with the rest of your baseball career!
About the Contributor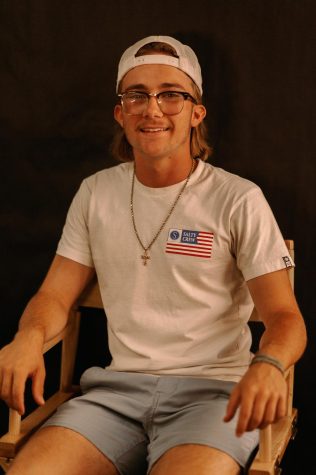 Joey Scattaglia, Managing Editor, Sports News


Hi! My name is Joey Scattaglia, I am a senior here at Golden Valley. I am one of two editors for the sports news team for our paper. I've played baseball all 4 years here at Golden Valley hoping for my best season yet. I'm also involved in the Sports Medicine club here on campus so I'm regularly helping at football games.

I'm excited to be a part of this news team because I  get to go in depth with the sports here at GV and highlight teams and players achievements. Outside of school, I love to go for drives, go fishing, and visit the beach as much as I can.