The finest place for movie fans and prospective filmmakers is GV's new film club. Students meet weekly on Thursday in room 412 during lunch. They explore topics about different directors, movies, and even watching movie screenings.
What is Film Club All About?
In the words of club co-president Bella Galvez, "Film Club seeks to provide an inclusive space for film lovers of all backgrounds to venture into the beautiful world of cinematic arts by building a real-life community where collaboration is accessible." 
Galvez, one of two co-presidents with fellow student Isabella Vazquez, continued to mention the goals and ambitions she had when creating the club stating, " We strive to bring Golden Valley students together, elevate great films, and provide opportunities for any aspiring filmmakers on campus". Film Club aims to provide a comprehensive space for students interested in film to wander into the excellent world of cinematic craftsmanship.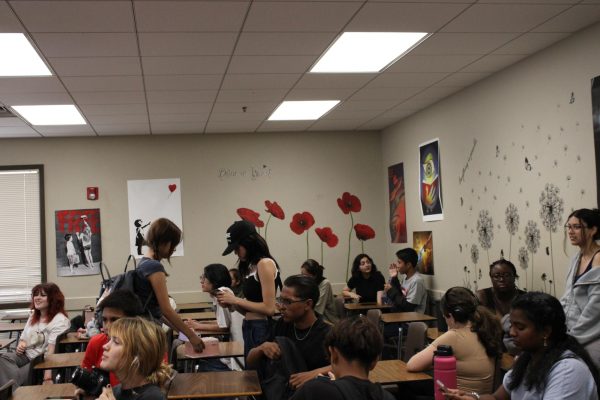 Why Should Students Join Film Club? 
Film club is a great way to get students involved, and to find a way to engage with each other. Members of the club can express themselves in a judgment-free zone. Brianna Sardelich, a student who attends the club  mentioned "If you really are into film analogy you would love to join this club." In case you'd like to seek a career in film, joining this club can assist you to succeed in your future. On the off chance that you like to learn more about directors and makers within the film industry coming to this club can give you a superior point of view of learning about them.
Behind the Scenes With the School Advisor. 
 Mindy Foster, the club advisor, helps film club activities. She mentions how she has a lot of experience with Film and TV; both her son and daughter have done a lot of work in that industry. "Students organize everything, I'm just there just in case they need some help" Foster emphasized. Having a club run by students is beneficial. It allows them to get experience by being leaders, and by taking on different roles in the club.
The Bigger picture of Film Club is showing classic movies and talking about what they observed and the different perspectives from behind the scenes. These club gatherings are a nice way to socialize and meet new people who have similar interests. Each meeting has an engaging conversation, giving knowledge into a movie's theme. Film club gives youthful individuals an opportunity to take part in something engaging, creative, and social. If you are interested in film and television, this is the club for you! 
Student Submissions
Submissions are now open !
Student Submissions are now open ! Submit your articles, poems, short stories, and opinion pieces. This month's theme is Nostalgia although it's not limited to it, it is strongly encouraged. We look forward to reading your amazing pieces !