NFL (Taylor's Version)
A new Era has dawned upon the NFL where the stadiums are now filled with Swifties. Taylor Swift is rumored to be dating the Kansas City Chief tight end, Travis Kelce and we have seen how some Taylor fans and NFL fans have reacted to this news.
In April of this year, Taylor Swift broke up with her long-term boyfriend Joe Alwyn while she was on her music tour. This couple had been dating for the past 6 years which shocked many when it came to an end. A couple of months later, Travis Kelce talked publicly about his experience at one of Taylor's concerts on his and his brother's podcast "New Heights". They talked about his journey to give Taylor a friendship bracelet with his phone number on it while he was at a concert but ended up coming short due to her not talking before or after her concert to save her voice.
"
I was disappointed that she doesn't talk before or after her shows because she has to save her voice for the 44 songs she sings
— Travis Kelce, talking to brother Jason Kelce on their podcast
While many saw this as a joke at the time, Taylor Swift ended up being seen at Arrowhead Stadium for the Kansas City vs New York game a few months after Travis's first initial comment about him trying to talk to Taylor. During the game, she was photographed cheering alongside Kelce's mom, Donna, in a private suite after he scored a touchdown. Later that evening, Swift drove off in Kelce's car and the pair reportedly attended an after-party together with his teammates at a local restaurant. The dating rumors started to spread rapidly and Taylor fans were excited to hear this news.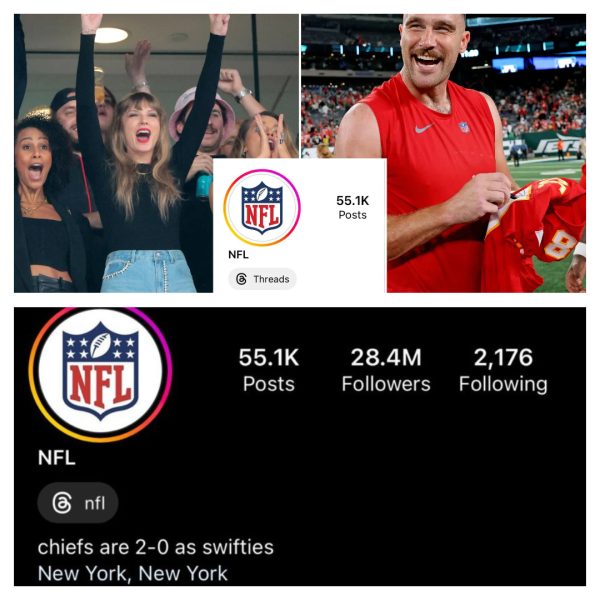 Travis Kelce's jersey sales spiked up to 400% after her first attendance at his game. New sports fans of Travis Kelce started to appear rapidly throughout the nation, even appearing at non-chiefs games wearing his number with his last name replaced with "Taylor's bf". This didn't go over the heads of loyal NFL fans, as the next couple of days the NFL social media was filled with posts, articles, photos, and bios all containing Taylor Swift. There were different reactions from fans once they saw all the new changes made by the NFL.
"
  The NFL is doing a good job jumping on an opportunity for marketing and gathering new fans to their pages. It allows a cross-over in worlds
— Abigail Maimone (fan of Taylor Swift for 17 years) talks about her opinion of the NFL coverage of Taylor Swift on social media.
"
I'm there to watch football clips, it's annoying to see Taylor Swift spammed all over the NFL. It's not a fan page
— Brayden Brewer (Fan of the NFL for 17 years) explains his frustration about the NFL covering too much of Taylor Swift

This didn't stop the NFL from continuing to capitalize on Taylor as new merchandise was seen to appear throughout different sports stores. New t-shirts with "Karma is my Tight End" and "In my Football Era" were seen in racks right in front of the front entrance at local sports stores like Dick's sporting goods. With these new merchandises now being available to buy, is it changing how many people tune in to watch the NFL games?
"
As a person who doesn't follow the NFL closely, I see it more often on social media more often. I don't say swifties are more invested in sports but more invested in Kelce as a person
— Abigail Maimone explains
"
I watch the same amount of football but it is still very annoying to see. This hasn't made me more interested in the NFL than before
— Brayden Brewer explains
Not only are NFL fans interested in Taylor Swift but also NFL coaches and NFL teams. New England Patriots and Kansas City Chiefs head coaches, Bill Belichick and Andy Reid talked about their opinions about Taylor in recent press conferences. "I joked about setting Kelce up, and, you know, I'm just saying…She's a good girl, she's into it, and we're glad she's here," Reid told reporters following the Chiefs 41-10 blowout win over the Chicago Bears. "I would say that Travis Kelce has had a lot of big catches in his career, This would be the biggest," New England coach Bill Belichick said on WEEI of the Chiefs star tight end.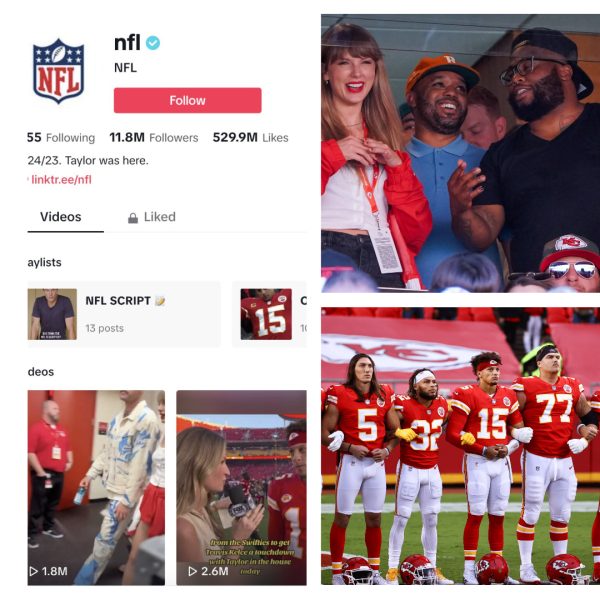 While many see this as fun and games, the Denver Broncos used this to their advantage to get under Travis and Kansas City's Chief's skin. On October 12th, Kansas City went against The Denver Broncos but sadly lost 9-24 (Broncos), as the Chiefs were exiting the field Taylor Swift's hit song "Shake It Off" played throughout the stadium. This was internationalized by Denver as many called this an "obvious troll" on Kansas City and Travis.
With new information about Travis and Taylor's relationship developing every week, many fans are left on the edge of their seats waiting for what would happen next. Everyone questioned what the NFL will do next with Taylor as people gave the NFL criticism on their choices.
"
Don't show her 40 times every time at the games, Show the other celebrities who are there. It is not all about her
— Brewer says as he wraps up his opinion on Taylor Swift
Student Submissions
Submissions are now open !
Student Submissions are now open ! Submit your articles, poems, short stories, and opinion pieces. This month's theme is Nostalgia although it's not limited to it, it is strongly encouraged. We look forward to reading your amazing pieces !