Golden Valley Shoots For the Stars with Their Homecoming event
Golden Valley ASB hosted their first event of the year on Sept.9th from 6:30pm to 10pm. The theme for the event was Galaxy. At the carnival Dj, three rides, VIP lounge, a photo booth, and more could be found. This event was held in order to welcome students into the school and make them feel like they are equally a part of the campus community.
This space-lit event began at the gate in front of the 300 building. In an interview ASB President Dara Falodun, explains the event was "smooth", because students had to fill out a liability form before they attended which made the process for the line shorter and easier.
Upon entering, there were a selection of rides like; the YoYo, Cliffhanger, and a slide. During the event when asked what students' favorite ride was, about 75% of them agreed that the YoYo was the best. The YoYo was a swing ride that took students up and spun them around a few times. The event provided activities all students could participate in.
"People were never not busy, " stated Falodun. If students arrived at homecoming early enough to enjoy all of the rides, there was a photo booth and caricature artists found near the counseling office. As the night drew on, these two stations ended up being the busiest.
The photo booth allowed students to capture fun memories with a photo card that each person was able to take home. Many preferred the photo booth because it allowed multiple people to be in the picture compared to the caricature.The caricature only allowed 2 students to be drawn at one time. With it being a drawing compared to a photo. Only one person could take the drawing home.
Along with all of the thrilling rides and activities, there was a new take on the carnival with the VIP room for only gold card members.
The goal with the VIP room was to "make gold card members feel like their gold card has a bigger purpose." stated Jazmin Rodriguez, Golden Valley senior class president. The VIP section gave gold card members a chance to feel like their cards are being used more frequently.giving students the opportunity to relax, whether that was with friends playing games, or a place to get away from the music.
When the event was coming to an end, students decided to move to the dance floor.
Everyone had their opinions on the DJ– but when asked about music Rachel Arrieta, one of our ASB advisors, stated,"DJ's often don't take recommendations." This did not stop the students from moving to the dance floor. Falodun states "There were alot of popular songs which I was really surprised to hear."
As midnight drew near, the winners for homecoming court were announced.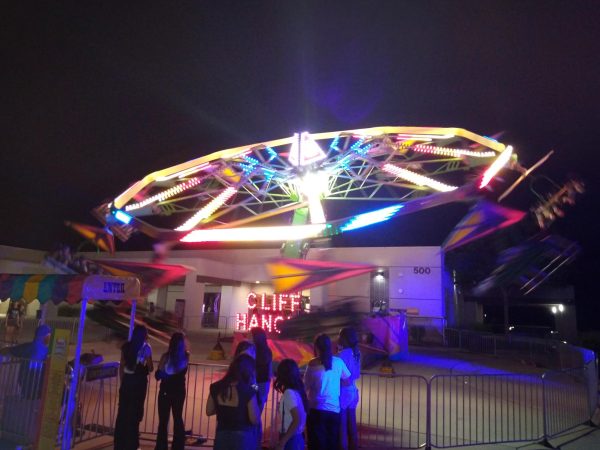 Jonathan Okereke ran for homecoming court along with attending the event. When asked about the process of running, Jonathan mentioned"Being a part of the parade was really fun, and it was a good experience to have.".
Okereke also says "I would recommend running for court even if you feel like you won't win. It is always a good experience to have."
This year had a lot to offer, and it also left students with many questions. ASB is in charge of hosting events and always accounts for student feedback. Students were curious as to why there was only one food truck. Arrietta mentioned"Most food trucks have a non competition request that they are required to sign." This means that the food truck owners do not like to feel like they are competing against each vendor that attends the event.
Rides were also a big part of this year's carnival, and so students had questions about the rides chosen. Rodriguez stated, "My ASB team is given a list of ideas to pick from." Sense students are interested in more rides Rodriguez and Falodun both stated "Having the event on the blacktop as well would be great.".
This year's carnival saw students' expectations surpassed, along with the teachers being really surprised on how the event went.
It makes someone wonder– what excitement does ASB have in store for us this year?
Student Submissions
Submissions are now open !
Student Submissions are now open ! Submit your articles, poems, short stories, and opinion pieces. This month's theme is Nostalgia although it's not limited to it, it is strongly encouraged. We look forward to reading your amazing pieces !