Janice Jin and Charly Saltz: Future Stars of Golden Valley Tennis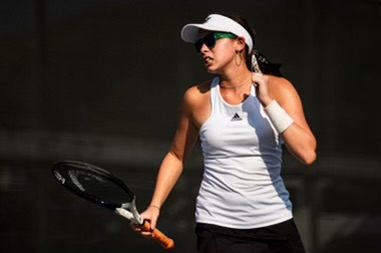 Golden Valley is home to countless sports, many of which have produced collegiate and professional athletes in the past. Now, up and coming on the radar are two members of the tennis team here at GV; sophomore Janice Jin and Junior Charly Saltz. As of now, they hold the future of GV Tennis on their shoulders, and we want to hear from them personally.
Tennis is a very difficult sport to master, as the motor functions and hand eye coordination necessary is second to none– not to mention the agility players need to have to be able to switch directions in the rally. This means you would have to play for a significant period of time right? Wrong– and Golden Valley has living proof. Her name is Janice Jin.
Janice is a Sophomore and has been playing tennis for only 3 years, yet she competes with opponents in the tough Foothill League that GV resides in. For two of the three years she has been playing tennis, Coach Stimac has had the opportunity to observe her. Janice comments on his coaching style by saying, "I feel like his coaching style has really helped me become a better person through how he tells me maybe to stay calmer during certain matches. It helps me as a person because I just feel like I panic a lot."
Staying calm and slowing the game down is a major part of any fast paced sport, and having a coach who has the ability to relax your mind to help you succeed is important.
Janice also mentioned "Ever since I joined this team, I was just in general more composed and I gained more experience." Team chemistry and knowing that your coach and teammates have full trust in you is very calming.
On the topic of teammates, Janice is more than appreciative of the amazing teammates she has. Janice said "I also really like to bond with my team a lot. I feel like tennis helps me socialize better." Tennis and all sports alike build relationships off the courts and fields as well.
Our next player, Charly Saltz, is a junior here at Golden Valley High School. Like Janice, she is a varsity player; however, Charly has been playing tennis for 9 years. Charly has played at many different places but she has been heavily impacted at Golden Valley. Charly says "My favorite part about playing for Golden Valley is definitely the people around me. They help me a lot when I'm playing." Coach Stimac is one of these people and she says, "…he gives me a lot of positive energy, and that isn't something I've gotten from other coaches in the past." A key to being a good player is being well coached, and Charly is fortunate to have that.
Some, if not most athletes have someone or something that has influenced them and inspired them to pursue their sport. For Charly, those people are her dad and brother. Her dad used to be a professional tennis player and has been coaching her since she started. Her brother played a big part as well and really got her into tennis, she said. Something else all athletes possess is goals.
Janice and Charly both have goals of improving their play, and their character as well. Janice says, "… I want to become a better person in general, not just in tennis. I also really like to bond with my team a lot so I feel like tennis helps me socialize…". When asked about her goals as well, Charly said " My biggest goal is to try to make it to CIF individuals this season." Goals are key to an athlete's progression no matter what they may be, and these girls both hold great individual goals and drives to pursue their passion.
Another form of influence and inspiration is held within the coaches. Coaching holds the power to make or break a player's passion and love for a game, and Coach Stimac has contributed very positively to his athletes, Charly and Janice included. Having the opportunity to speak to coach Stimac about his two athletes and where he sees them in the future, Coach Stimac says that "Janice is friends with everybody on the team and Charly is new to the team but has quickly been adopted by the girls on the team, and she just fits right in with everybody."
Stimac also comments on where he expects them in the future with his own perspectives, "I would obviously love to see growth. I would love to see Charly win the foothill league title this year, next year, or both. I'd like to see Janice within that contention as well." Coach Stimac is going to do all he can for his players, and then it's all on them. That's what separates a good player from a great player is their individual goals and dedication to their passion.
With that being said, the entire Grizzly Gazette staff wishes all of Girls Tennis a good rest of the season; we can't wait to see what comes in the future! Good luck, Charly and Janice, in all your future endeavors.
About the Contributor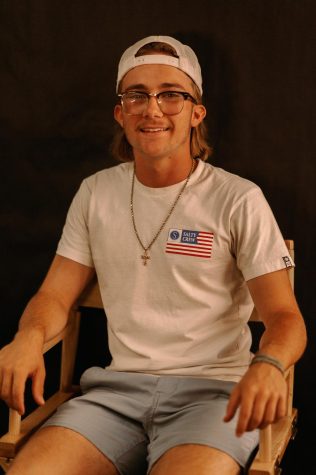 Joey Scattaglia, Managing Editor, Sports News


Hi! My name is Joey Scattaglia, I am a senior here at Golden Valley. I am one of two editors for the sports news team for our paper. I've played baseball all 4 years here at Golden Valley hoping for my best season yet. I'm also involved in the Sports Medicine club here on campus so I'm regularly helping at football games.

I'm excited to be a part of this news team because I  get to go in depth with the sports here at GV and highlight teams and players achievements. Outside of school, I love to go for drives, go fishing, and visit the beach as much as I can.