More About 'The Den': A Look Inside the Golden Valley Student Section
School spirit is an important part of every high school. The Den shows this off by creating themes for each football game and encouraging students to cheer on their team.
The Den is Golden Valley's student section and spirit club. It is run by students from each grade which helps various students be involved, this gives them the opportunity to be able to express any idea they may have and show off their support. A student section supports their schools athletic teams and many other school activities. They are known for being the most spirited and visible section of the school.
The Golden Valley High School Den goes to support sports games and show love to all the teams. They show up to every football game on Fridays and cheer them on for every touchdown they make. Without The Den no games would be memorable and enjoyable. The Den will also be recognizing theater, vocal arts, and other events that go on throughout the school year. They have supported GV football, but they also will be showing support to the GV basketball team.
---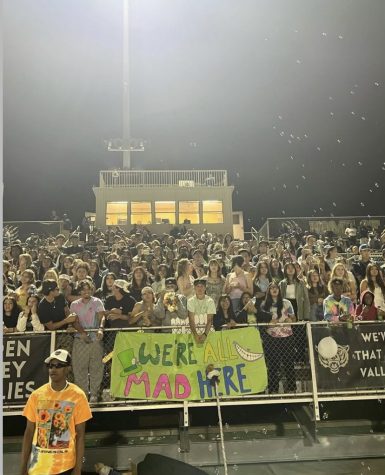 The GV Den Liaison, junior Mariette Fanous, states that her favorite part of being a part of The Den is "Seeing our student section supporting our sports team, it's great when you're at a football game and seeing students cheer once our team gets a touchdown."
Not only does The Den enjoy having a loud student section, but it also gives encouragement to our athletes to try their best knowing they are being appreciated. Jabulani Aduwo, Golden Valleys Varsity Football player, expresses how he has felt throughout the games this school year, "When I'm out in the field playing and I see how our school is cheering on for not only me but my whole team it gives me more motivation to do better"
As many students have seen throughout our football games, there have been many themes this school year, which The Den has picked out, and it helps many students be more involved at games. One of the themes was "Think Pink" (for Breast Cancer Awareness month), which many students participated in by wearing pink colored clothing, along with face paint and stickers on their face or body.
---
"
One of my favorite parts of going to football games is that I am able to show support by being in The Den and having fun in the section."
— Thimashi Premedasa
Student involvement is an important part to having a successful section for GV games and, Fanous expressed her thoughts on student involvement: "There should definitely be more students involved. The more our student section gets bigger, the more fun school activities will be… we won't stay in high school forever, and it's a lifetime experience."
Football games are a great example of having fun and enjoying your time whether it's with friends or anybody else, participating in these activities helps create memories that some will cherish when they're older. A Senior from Golden Valley Thimashi Premadasa states, "One of my favorite parts of going to football games is that I am able to show support by being in The Den and having fun in the section. This makes my time feel valuable."
---
There are 2 leaders from each grade, as follows: Freshman Jevin Smith & Addison Kakiki, Sophomores Madison Castillo & Jonathan Okereke, Juniors Jayna Smith,Tyler Parks, & Paris Mendieta, and Seniors Jayden Bryant, Alvin Jackson, & Danielle Cox. Lastly, Mariette Fanous as the Den Liaison. Having such a wide set of different opinions and ideas helps make The Den much more expressive throughout the school year.
There are ambitious future plans for The Den: one being supporting more school events, and not just sports. Although football season is coming to an end, the Den will be supporting more school events throughout the school year and hope to have many students involved!