Treasure Island: How It Set Sail
The theater course offered at Golden Valley High School makes it accessible for young students to participate in theater, get ahold of opportunities in the performing arts, get to experience new interests or pursue passions, and create many memorable performances for our school. The newest project prepared by 40 people, involving sword fighting to swashbuckling pirates. Here is how Treasure Island came to be.
The history of theater traces back to the 6th century, and from the past till this day, theater has entertained people but also shaped a community that spread throughout the whole world. Although made for entertainment purposes, theater is an art form that has always connected with society and those acting in it.
Theater is offered with anyone being able to join and creates modern adaptations to productions, one of them being the spring musical, "West Side Story" from last semester. Theater is open to new inspirations that are shared with students to experience.
The theater community at Golden Valley is outgoing and beyond creative, some may say dramatic (in terms of their acting). The theater team has long deserved recognition, specifically, new Show Director and theater teacher, Amanda Hubbell, and those in the graduating Class of 2023, who pointedly include Theater Guild President, Julia Readmond, and Theater Guild Vice President, Kat Cuñado.
From constant rehearsals to the final show, Hubbell's newest feature is Treasure Island involving peers from all grades. Everyone came together to deliver a fun experience that includes pirates and sword fighting, and it's undeniably something different from usual productions at Golden Valley.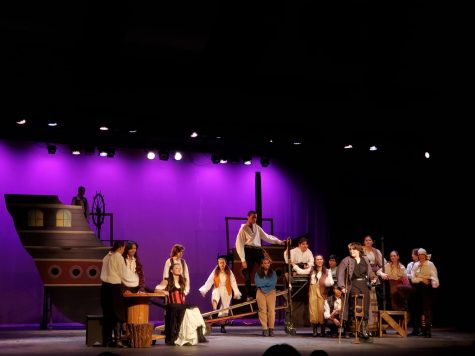 Treasure Island has been in production way longer than anyone else knew; students have been rehearsing for three and half months while staff had been preparing for another three months–so this play has been in production for six and a half months in total. November 16th was the night all the hard work paid off; opening night of the play Hubbell and students were not the only people involved, as Hubbell mentioned others who contributed to the setting and arrangements of the show.
Hubbell tells, "I have a friend who did the scenic painting and someone who's a fight coordinator…I'm very lucky to have Mr. Alterman, he does all of the stagecraft, then Stephanie Nazario taught them the song they sing in the show, it's a big community effort."
Hubbell was very enthusiastic about introducing this type of show, saying "I don't think Golden Valley has done a show with sword fighting or swashbuckling in a while. I wanted to bring that in so it can be a cool experience for the actors to have and students to see." With the passion of Hubbell it was guaranteed that Treasure Island would be a triumphant theatrical performance.
Taking the chance to witness the shaping of the final product and attending one of the rehearsals, it's very noticeable it comes down to every detail put into the final outcome. With just two days until performance, Hubbell was scrutinizing the trial performance to catch any flaw and with eyes watching. It was a bit pressuring amongst some students. One of the supporting actors, Yarlenly Peña Rodriguez Azul, with the role of 'Benn Gunn'–a comedic unhinged character that has a deep love for cheese [relatable]–mentioned that rehearsals and final runs were still nerve wracking, quoting, "It's the last time we get to run the show before having an audience…and although the nerves are high, they're overpowered by the excitement of finally showing everyone what we've worked so hard on".
Assuming there were four people in the audience during practice, the uneasiness that comes with it also comes with that adrenaline rush that definitely lets actors get through last minute preparations.
Although live theater might be pressuring, opening night was still successful, Peña Rodriguez added, "Opening night is a feeling that is indescribable. We've performed the show so many times but audience reactions always fuel our performance."
"
Honestly, everybody in the show worked really hard, and really progressed in their skills and abilities. I'm really proud of the work all of them have done. "
— Amanda Hubbell, Director
With an audience, it's more engaging and will never fail to deliver reactions, agreeing with Peña Rodriguez, Samantha Jewel Sandoval, who plays the role of 'Black Dog', Show Choir Vice President and Staff Writer for The Grizzly Gazette, added, "there's a different reaction compared to parents night and students are more interactive, giving a different energy it's fun." One thing for sure is that the theater team will always try to deliver their best performance, whether it's rehearsals or opening night. It's extremely admirable to see the constant practice that was arranged before the actual performance debut.
Sword fighting is a specific element of the play, there was a scene coordinator that trained actors to be safe and make the fighting look real. The training being a highly mentioned moment, Kat Cuñado, role of 'Long John Silver', snarky and villainous, and the Theater Guild Vice President, wanted to acknowledge those moments. "The sword fighting–cause as a pirate appreciator–it's definitely something I always thought was super cool and to be able to do it was an experience."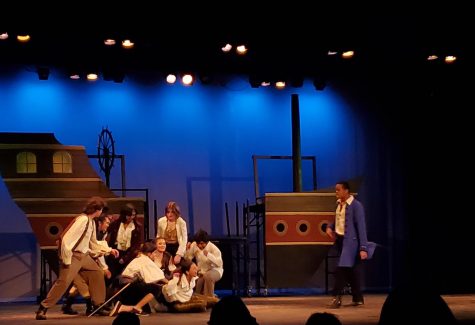 Sandoval also added their preference in the production was, "Being a pirate. Literally was so much fun, you get to act so uncivilized because you're a pirate, like that's what they're supposed to be and that's my favorite thing; I want to be a pirate." At the end of the day, noting that one of Hubbell's main goals was to create a liveliness project was definitely accomplished.
Treasure Island is a well produced play, specifically acknowledging foreshadowing with small voice lines and stage lighting during certain scenes, it's carried on throughout the two acts and those small hints kept the audience on the edge of their seats. A common talked about scene is the prologue, it's truly a speechless moment that certainly grabs the viewers attention.
The pirate element kept the story interesting and fresh since there were a lot of plot twists and riveting moments, pointing back to the foreshadowing. There was a lot of character development and engaging action scenes, the clash of all these elements really came together to make it enjoyable for those who appreciate shows.
Foreshadowing focused on Cuñado's character a bit more than others, Long John Silver; recognizing the final product, Cuñado mentioned challenges with Silver's characteristics. "I'd say [it's] a little difficult cause not only having to deal with the leg, but also because I'm 5'3 and he's supposed to be a big scary pirate, a little bit of suspension in disbelief there" Putting those challenges aside, there was a  specific obstacle he to be dealt with; "The leg for sure. For the first time I put it on, I was convinced I would not be able to walk and I was like, this feels incredibly unnatural, but after a few rehearsals I was like okay, I can actually get around". With John Silver being a very strong character, Cuñado conclusively expressed the satisfaction playing this role, his performance definitely broke a leg.
Last, but most importantly, Julia Readmond, the Theater Guild President, with the role of Dr. Livesey–a rational doctor that is contrasting to the unhinged pirates–, the roles' characteristic is explained by Readmond, "It is my personal suspicion that the author of the play [who adapted it from a book] did not like Dr. Livesey and therefore gave him less stuff to do. But the cool thing about theatre is that even if you have a part with only a few lines, you can still make that character memorable for the audience by how you interact with other characters and how you use your body while acting." Noting that Dr. Livesey didn't have much of the action scenes, Readmond still adapted the character to make him stand out, from the accent reciting lines with an impressive outfit, it was entertaining to witness a character so different from the swashbuckling pirates.
"
The cool thing about theatre is that even if you have a part with only a few lines, you can still make that character memorable."
— Julia Readmond, GVHS Theatre Guild President
Readmond's leadership in theater is just the start, with being in seven plays during her time at Golden Valley, Readmond has always had an outstanding element to her acting. With this being her last year at Golden Valley, thankfully she still mentions plans to continue being involved with acting, "I am definitely planning to continue with theatre post-high school. I plan to either minor or concentrate in theatre, depending on what school I attend. Even though I'm a senior and graduating soon, this is just the beginning of my time in theatre." With her significant performances, most definitely sending great wishes to her future years after graduation. Readmond explained, "I'm really proud of how much hard work the cast and crew put into the show, there are so many little bits and pieces that require so much individual practice and cooperation and we all ended up working together well." Treasure Island's final outcome was satisfactory to those involved in the play as well as those in the crowd.  
Ultimately, out of costumes and makeup, disclosing the pirate attire and persona, students prepare for their next and final show as well as celebrating another successful performance night. After all opening nights coming to an end, spring semester follows up soon and the theater team is needed to deliver another significant theatrical preformance. There's high anticipation to see the future expansion of Golden Valley's theater team.
About the Contributor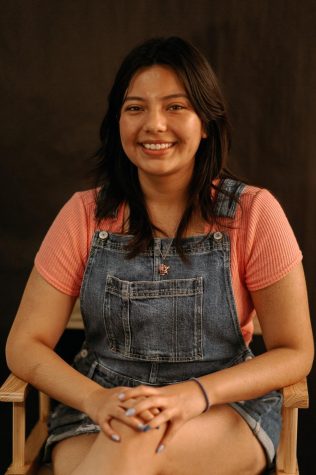 Danielle Luna, Copy Editor
Danielle Luna, a student reporter and writer for The Grizzly Gazette, is on the Campus News Team. Currently in 12th grade and in three clubs on the campus, Danielle is very enthusiastic about this opportunity to write about campus and to students: her own classmates. Knowing high school for the last 4 years of her life, she is passionate to cover relatable topics and stories that are different from usual advice. Being a part of this team is an entertaining concept to her that she can finally create it to whatever she wants it to be for the future teams of journalism.

Putting aside the motivational speech, like almost every other person, she loves music: perhaps an article criticizing new albums can be released by yours truly. A proud Diamond 2 rank (and yes, don't even finish that sentence you were coming up with). She will always be ready to be upfront and honest with any person, she will also likely have a big mouth most of the time- being perfect for journalism!