'New Jeans' Has Our Attention!
K-pop is filled with different artists and groups with different music styles. But what makes NewJeans so special? The 5-member girl group– Minji, Haerin, Hanni, Danielle and Hyein– debuted on August 1st, 2022, under entertainment companies, ADOR and HYBE, and has stolen everyone's attention with their music, looks, and dance moves.
NewJeans officially debuted under the newly born entertainment company, ADOR on August 1, 2022. ADOR drew attention towards the girl group. Usually, K-pop groups have teasers of their songs, but their company decided to randomly drop their first song 'Attention' on July 21, 2022. K-pop fans decided to listen to what this group is all about. 'Attention' brought in many fans, eager to see the group's official debut on August 1st. The song currently has over 120 million streams on Spotify.
The next day, July 22, 2022, Hybe dropped another song, 'Hype Boy.' Uniquely, the company uploaded and produced 4 different music videos for this song. Each music video focused on one member, however, Danielle and Haerin shared a music video. As of December 5, 2022 Hype Boy has over 125 million streams on Spotify.
On July 24, 2022, Hybe dropped one more song that was different from Attention and Hype Boy. The song 'Hurt' is more of a ballad and showcases the group's vocal range. On their actual debut date, their music was released on all streaming platforms and Cookie was released.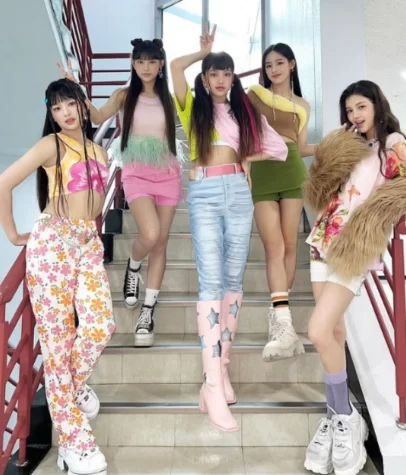 12th grader Nick, a K-pop fan at Golden Valley stated, "New Jeans is something you wouldn't hear in K-pop. It was kind of like a refresher." Their songs remind fans of the 90's and early 2000's. Their songs all give R&B vibes with a hint of pop. They stated, "Most of K-pop nowadays is Girl Crush groups and concepts and it was getting overplayed and when New Jeans came out with those songs, it felt very different and it is very good."
New Jeans are showing a different side of K-pop. They are straying away from the typical sound that 4th Generation of K-pop is making.
Their different type of concept makes them stand out from other 4th Gen groups such as Itzy and IVE. An 11th grader from Santa Barbara High School, a K-pop fan of 10 years stated, "I like them because they remind me of older generation groups like Twice and Girls Generation."
Not only do they sing beautifully, they also write and produce their own music. They don't seem as if they are working, more as if they are having fun. As an audience member, you can really tell these girls love their job and their music.
NewJeans are not even 6 months old, but they have already broken countless records! They set the record for most copies sold on release date with their first album with 262,800 copies. The 11th grader confided that, "It feels weird that people my age are already more successful than me, especially since they just started."
New Jeans is also the first and only 4th generation in K-pop to reach 10 million monthly listeners on Spotify. In September 2022, NewJeans were in an advertisement for the new Apple IPhone 14Pro. Not only that, but Hanni became a Gucci Brand Ambassador on October 28th, 2022, making her the youngest Gucci Brand Ambassador.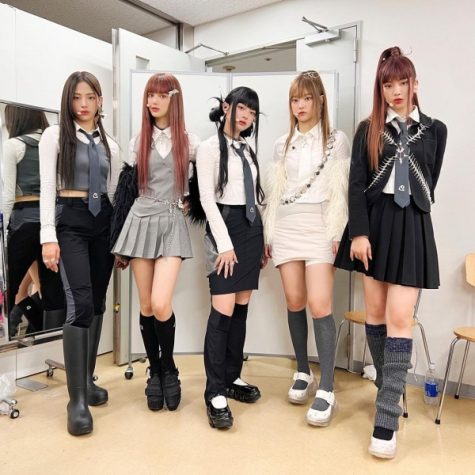 Furthermore, NewJeans was invited to W Korea's Annual Halloween Party. This party is very exclusive and invites are only for top celebrities. NewJeans was able to perform Hype Boy and Cookie and had everyone in the party singing along and cheering for them.
Recently, the rookie group performed at the Mnet Asian Music Awards, more commonly known as the MAMAs. This is the biggest award ceremony for Asian music. The girls performed with other girl groups on Day 1. They then came back for Day 2 and performed all 4 of their songs as a mashup with dance breaks.
NewJeans definitely has our Attention. The girls are beautiful, talented and a breath of fresh air. Despite the youngest being 14 and the oldest being 18, they have made such a difference in the K-pop industry. These teenagers balance work and school daily, inspiring listeners everywhere. Everyone can not wait for their first comeback in early winter to see what they do.
About the Contributor
Danellie McIntyre, Staff Writer- Arts, Media, & Culture
Danellie McIntyre, or more commonly known as Nani, is a senior at Golden Valley. She's a staff writer for the Arts, Media, and Culture Team. Nani was at Golden Valley during freshman year and was a soccer manager for the freshman girl soccer team. She joined Golden Valley during October in 2022. 

Nani is passionate about covering music topics and books. She loves journalism due to the chance of covering things she is passionate about. It allows her to spread true news and entertaining topics. Writing gives Nani a sense of freedom. 

Nani spends her free time reading, listening to music and playing video games such as Valorant. She is a social media manager for an escrow company and a dog sitter and walker. Nani enjoys concerts and traveling.