Valorant's First Couple
It's official — Valorant announces their first LGBTQ+ couple on their official Twitter account as of December 11th, 2022. Beloved characters, Raze and Killjoy, have been canonically partnered.
Valorant is a free-to-play first-person tactical hero shooter game developed and published by Riot Games. The Game features 18 playable characters, known as agents, all from different countries, different ethnicities, powers, and even different worlds. Players play on nine maps and try to stop the attacking team from planting the spike.
Tayane Alves, the real canon name of the character Raze, is a blunt girl from Salvador, Bahia, Brazil. Although she doesn't have any superpowers, she is a brilliant engineer. She is a playful, spontaneous, and cheeky girl that shows in her work. The designs on her work are colorful while having a style unique to her character.
Klara Böhringer, Germany's genius, is Killjoy. She's an inventor with a colorful spirit that loves to show off her wits. At the age of 18, she became the lead for the Kingdom's R&D department. Kingdom is an equivalent to Marvel's Stark Industries. Killjoy makes many of the devices and abilities for the agents in Valorant.
Killjoy and Raze are the two inventors of Valorant. Neither have powers, but instead utilize their advanced mechanical knowledge to create inventions.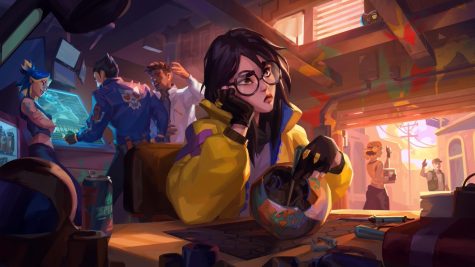 In addition, the two have been portrayed to have had a friendly competition with one another.
In the game, you'll hear Killjoy say to Raze, "Okay Raze, fine, your tinkering…may…have made my tech better. Nice work." You may also hear lines like, "Drive them crazy Raze, you're good at that." With these interactions, Valorant fans always assumed the two were dating.
However, there are rules to the Valorant protocol. The rules stated that agents must leave behind their past lives and occupations, no workforce relationships, having call signs to protect their identities and to always be professional. Due to these rules, Valorant players didn't think Raze and Killjoy could actually be a "thing."
Players have been waiting for this moment for years! Twitter user IncorrectValo stated "Everyone looking at them kiss after 2 years worth of build…congrats Nanobomb!"
Another twitter user, Valorant Updates stated, "The Best part of the Valorant Cinematic Trailer is how Killjoy and Raze interact and look at each other, pure love"
Due to the no workforce relationship rule, many players were questioning whether they can stay together or not. This protocol is meant to keep their agents from making personal choices during battle and risk their own lives and others.
Senior Danielle Luna, a Diamond 2 player stated, "Some people go against each other. I think it could affect them in a Civil War and put the agents against each other."
In the most recent Valorant update, Episode 6 on January 10th, 2023, Viper, the second in command to Brimstone, the first in command, decided to delete those rules. Viper stated, " Can we consider this done? Frankly we wasted too much time on paperwork. If agents choose to risk personal attachment to each other, so be it. They're adults. They'll do what they want. We can spare them this sacrifice."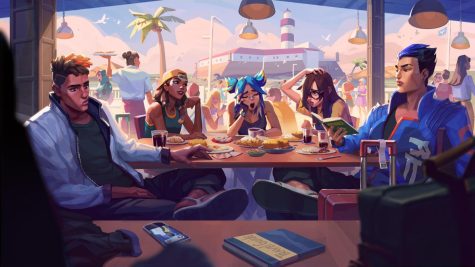 This new rule has excited many Valorant players. LGBTQ+ players feel seen and supported. The diversity in this game creates an inclusive gaming environment and welcomes people of all backgrounds.
While other fans are wondering what's going to happen from this. Could the agents become close and become family? Or could this cause a drift among agents?
About the Contributor
Danellie McIntyre, Staff Writer- Arts, Media, & Culture
Danellie McIntyre, or more commonly known as Nani, is a senior at Golden Valley. She's a staff writer for the Arts, Media, and Culture Team. Nani was at Golden Valley during freshman year and was a soccer manager for the freshman girl soccer team. She joined Golden Valley during October in 2022. 

Nani is passionate about covering music topics and books. She loves journalism due to the chance of covering things she is passionate about. It allows her to spread true news and entertaining topics. Writing gives Nani a sense of freedom. 

Nani spends her free time reading, listening to music and playing video games such as Valorant. She is a social media manager for an escrow company and a dog sitter and walker. Nani enjoys concerts and traveling.