What Does Black History Month Mean To You?
Black History Month is a significant time of year for the Black Community. It is a time when the community gets together and celebrates their legacies. There are different collective achievements that have helped more than just the Black community.
This year's theme for Black History Month is the "Black Renaissance" which recognizes the cultural activity of African Americans and this travels all the way back to before there was such a thing as 'Black History Month'. This explores how African Americans have resisted historic and ongoing oppression. The origin of Black History Month all started in 1915 after the abolishment of slavery. Before it was considered a month, it started out as just a week to recognize African Americans. Since then the Black community as a whole has come a long way and there are not clubs and organizations that are dedicated to their accomplishments and achievements.
The BSU club (Black Student Union), at Golden Valley High School positively impacts its participants. There is a sense of exposure in BSU that makes people come together. This makes members feel like a family as they are surrounded by their peers of the same community. It is a common misconception that the club is exclusive to the Black community, but this, however, is false. The club welcomes other races to join the club and see aspects of the Black community that they might be familiar with.
Personally, as a student member that is in the club, I have been able to feel comfortable in my own skin as a young Black woman. BSU has not only been able to help me feel good in my own skin but it has also been really good with getting me out of my comfort zone and talking to new people because a lot of the people in the club are very social. I wish people knew that the club does not exclude all the other races so they are also welcome to join the club and see a new experience. As a black person, I feel as though I have grown and I encourage my people to be comfortable in their skin and be proud of who they are.
As a Black student at Golden Valley High School, I like the diversity that is all around me. I love the fact that there is a club that is dedicated to the Black community so that makes me feel good about who and what I identify as.
The advisor of BSU, Mrs. Yoakum gave insight on what Black History Month means to her which is, "It gives us an opportunity to share our legacy and recognize our contribution to the United States."
This is very powerful because most people do not know that most of the things in the United States were in fact created by a black person, so that should be recognized. Mrs. Yoakum helped me see how truly empowering it is to be a part of Black Student Union by being unapologetic about who she is as a Black woman.
A junior at Golden Valley High School stated that, "Black History Month is the acknowledgment of black creators and it is a month where they can really feel seen as a community." Black Student Union is their favorite club on campus and they wish that they "were given credit when credit was due", because they don't get that much recognition on campus so people tend to, "pass them by but people should stop and see what they are really about and the value that they have."
Happy Black History Month!
About the Contributor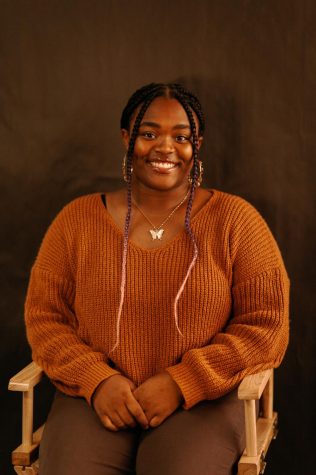 Nadira Linell, Staff Writer- Arts, Media, & Culture
My name is Nadira Linell, and I am a staff writer for Arts, Media, and Culture Team. I am a junior at Golden Valley High School. The programs that I am in at school are BSU (Black Student Union), Track and field, and also in the Show Choir here. All are very enjoyable and each have their benefits that work in my favor.

In elementary school, I entered these creative writing contests where I was supposed to write a narrative about anything and in those contests I won 3 out of the 4 that I entered; Such a confidence/ego  boost honestly. So me joining this class and getting to write about things I am passionate about is really great for me. I am passionate about writing about mental health and  how that can affect what a person does and who they are. 

Being a part of journalism is important to me because the word "journal" is in it. I love journal writing so being able to choose a topic that I am passionate about makes it so much better. When I first heard about journalism I...