2023 Black History Month Art Show
The Hart District held an art show to honor Black History Month on February 28th at 6:00pm. The show was at the Hart District Administrative Center. Each student had an opportunity to present their pieces with this year's theme being, 'celebrating community, caring, courage, and creativity during Black History Month.'
Two Golden Valley students participated in the show: Kalia Jones and Lluvia Navarrete. Jones presented a piece based on censorship in black history. "I wanted to depict two black women taking upon themselves to learn about black history because of how hidden and censored it is. I see it especially recently with how much it's being banned. I think it's important for people in the black community to learn about their history," expressed Jones.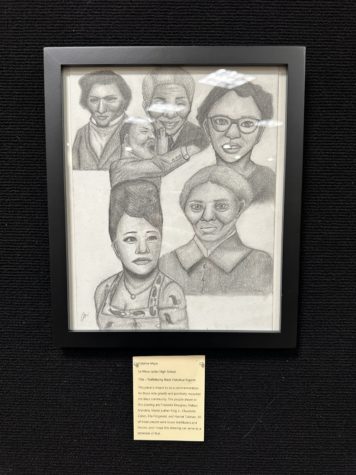 The piece took two days and was seen as an exciting and fun opportunity to experiment with new painting styles. "I'm really glad that this event is happening because I think it's important to see other black artists because I often don't get to see other peoples art, especially black art so I'm glad this is here," Jones shared.
Sixteen students from around the district submitted art including Savannah Boyajian, from Hart High School. This senior, who was also a participant last year, named her current piece Daisy Gaston Bates. "I felt like she was not a well known person and she was a very important piece of black history. She helped the Little Rock Nine get into school and she also helped fight off crowds as they were trying to get into school. However she was not as well known compared to people you often see like Martin Luther King Jr. who are a big part of our history but she also was a big part of our history and needed to be talked about more."
Daisy Gaston Bates took around 20 hours to create which is not out of the ordinary for most of the other pieces created for this event. Most had a range of 10+ hours dedicated to crafting the art presented on the walls. Some other pieces include, Mother Earth by Lyric Branch, Stillness by Ekaterina Ustinova, and Chained Truth by Donnah Moon.
This is the second year the event has been hosted. Board Member Cherise Moore says, "We wanted to do something to bring people together in a way which through art we can embrace each other and through art it doesn't matter who you are you can all see art through the lens of unity that it brings to the world." Many artists agreed that this year the art show has grown significantly bigger and will continue to rise.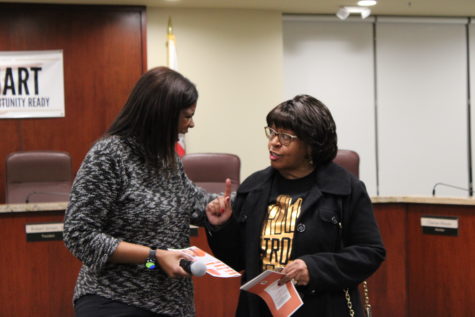 One of the main organizers, Debbie Dunn explains, "This was my first time taking over and I learned a lot and next year I'm gonna have a really good framework in place. This was not solely my job, this was also the Student Communications Council, we met and came up with ideas and deadlines for what worked the best."
SCC president, Carys Hay, presented a speech along with her artistic piece on the district value creativity which was dedicated to Gwendolyn Brooks. "I wanted to make sure my speech was representative of what she did and was impactful and articulate about the black community so it took a while to perfect my words." Carys has also expressed being supportive of the idea of an LGBTQ event sometime in the future.
"Black history is our history," says Superintendent Mike Kuhlman and Charise Moore. "This is just one of many ways that we celebrate and recognize the history that the African American community has contributed to our country and to Santa Clarita."
Moore comments as an ending thought in her speech, confidently says, "Honestly twenty eight days is not enough to contain the rich depth of black history, however I am hopeful and optimistic that the artists found a way for us to continue sharing their art as representation of the Hart District and Black History Month."
About the Contributors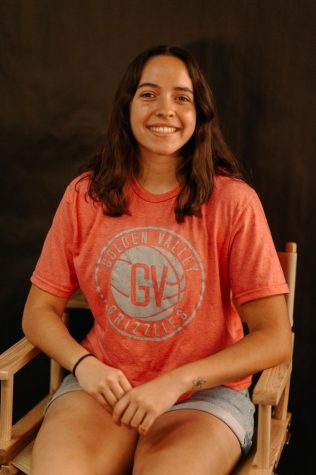 Genesis Perez, Staff Writer- Campus News
Genesis Perez is a Senior with a position as a staff writer for Campus News Team. She is involved in Golden Valley Girls Basketball and CSF. With experience in a leadership role as team captain of her team and being involved in group extracurricular activities like choir, being a writer for the school newspaper was an easy yes.

Though she covers campus news, she has a passion for the arts and is excited to cover events like school plays. A goal of hers is to express her point of view on students and places in Santa Clarita that are involved in the arts and explore the different cultures that are present in Golden Valley.

Being a student journalist this year is very important because this is the foundational year for the paper to really kick off. Being a part of the main structure and setting the culture is really exciting and will definitely be the most rewarding part of being a part of the paper.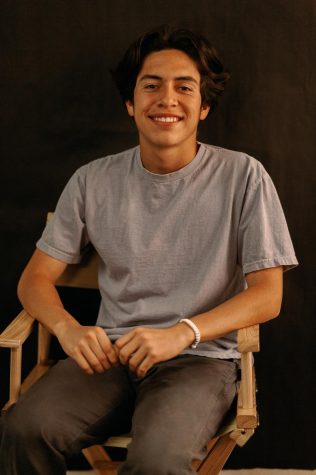 Arthur Betancourt, Staff Photographer
Arthur Betancourt is a senior at Golden Valley High School. He is involved in CSF and the school's soccer team as well as previously being in the band program. As a writer on his team, he is heavily interested in all of the arts; however, music has always been his bread and butter. He would love to eventually work with music oriented topics and stories. His love of all things music stems from his experiences in his 7th grade Jazz band, and his various triumphs with his team. 

Growing up in an immigrant family, he has developed a love for his Mexican roots and wishes to deepen his connection with the culture. Although he has since moved east from Santa Clarita, he remains in love with the city. Being a native to Santa Clarita, he knows the ins and outs of the city; appreciating it every day a little more.