My Own Chaotic Experience of Obtaining Suga | Agust D Solo Tour Tickets
Min Yoongi aka Suga, member of BTS, announced his solo world tour on February 14th, being the first BTS member to go on a solo tour.
The tour is named, 'Suga | Agust D. Agust D' is related to Suga's other stage name. Agust D is a commemoration of Suga's hometown. "Agus" is Suga's name backward, and "…t D" is for his hometown Daegu Town.
I started listening to BTS when my best friend, Meghan Selbie, begged me to give them a chance. She showed me V, whose real name is Kim Tae-Hyung. I immediately loved his strange presence. One of the first fancams I saw of him was from 2019 and they were performing Mic Drop.
Meg then started to introduce me to the other members. The one that really stuck to me was Suga, whose name is Min Yoongi. Immediately, my bias was Tae-Hyung and Yoongi stayed my bias wrecker for a year until I saw him live in 2022. Now, I bias both Tae-Hyung and Yoongi.
---
Get to know Suga!
Suga goes by many names! He was born, 민윤기(Min Yoongi). Before he became Suga, he was an underground rapper known as "Gloss". And in 2016, for personal songs, he used the stage name Agust D.
Yoongi loves basketball. He got the stage name Suga due to it. He was a shooting guard, in Korean, pronounced as 슈팅가드 (Syuting gardeu). He took 'Syu' and "ga" from the word and formed Syuga.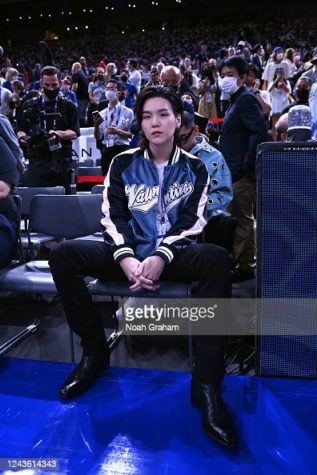 He joined BigHit as a producer and not an idol. However,CEO Bang Si-Hyuk, slowly tricked and convinced him into joining BTS. Si-Hyuk told Yoongi that he would only join a rap group and not dance. That rap group slowly turned into kpop idol group, BTS, Bangtan Boys.
Yoongi has 147 songs attributed to him as a writer and composer. He knows guitar and piano and he was self-taught! He has been making music since 13. He has a dog named Holly who he adopted in 2016.
Yoongi captivated me with his rap skills, lyrics, and beats he creates. Similarly, his humor and how he always speaks about hating dancing, but killing it on stage.
Something that really drew me to Yoongi was how kind and loyal he is. During his time as a trainee, before his debut in 2013, he dislocated his shoulder. He never told his company due to him fearing they would drop him. As trainees, they didn't earn much money and he cared for his members and wanted to help support them and didn't want to let them down. Yoongi didn't get surgery for this injury until 2020.
---
Preparing for the Pre-Sale
I was in a Starbucks drive-thru when I heard about Yoongi's solo tour. Meg texted me saying "Did you see Yoongi?" I was confused until I searched up Yoongi on Twitter and saw the news. I screamed in the car. My mom immediately asked me, "What's wrong?" and I screamed, "Suga is going on tour!" She got excited with me and without question, gave me permission to go.
I immediately went to Weverse Shop and bought an ARMY Membership. An ARMY Membership gives early access to tickets, merchandise and exclusive content. I signed up for the ARMY presale on Weverse and I qualified. I then went to Ticketmaster to sign up for their ARMY presale. Unfortunately, due to poor wifi, it didn't allow me. As soon as I got home, I signed up for the presale and thankfully I was approved.
For presales, Ticketmaster sends you a presale code to enter then allows you onto the ticket buying site. This didn't happen until February 28th. The presale didn't start until March 1st 2023. Until then, I was planning who I was going with and how much I was willing to pay. I ended up deciding I was going with my brother since he actually loves Yoongi. I was willing to pay $150-$250 per ticket.
I quickly learned that getting tickets is a stressful process. There is only a limited amount of tickets and it is first come first serve. There were so many people that signed up for the presales and they could only give up so many codes. You just have to sit and hope they give you a code to join the Ticketmaster website early enough to get there first.
For the last few BTS shows, I got lucky. I was able to sit in the 300's in the Permission to Dance LA show and the 200's in one of the Permission to Dance Las Vegas shows. I joined the presale line 10 minutes before the sale started. I got into the actual sale 30-40 minutes after I joined. I was happy that I was actually able to get tickets.
I had a different plan this time and joined as early as possible.
On February 28th, in the middle of my workout at 3:31 pm, I received an email from Ticketmaster. They stated that I was going to receive a text message at night that would include my presale code. I was chosen for the ARMY presale. I was grateful that I was chosen, despite there being so many people who signed up.
---
Ticket Processing Process
On March 1st, I ran to my desktop at 2:30. I signed into my Ticketmaster account and joined the waiting room. I sat there and just stared at the screen watching 30 minutes turn into 1 minute.
As soon as I joined the queue, I needed to use the restroom. I immediately facetimed my friend Gil, to watch the queue for me. I am so glad that I did. I was getting closer to getting tickets within each second. At one point I had 694 people in front of me then, 484, 259, 19 then 1.
When I got to the website, there were so many tickets. However, this wouldn't be a true Ticketmaster experience without any bugs. If I choose a ticket it would take a minute to load then it kicked me off.
I was trying to buy a ticket for my brother, my friend Danielle, and I, but every time I tried it would say "A fan already beat you to these tickets!"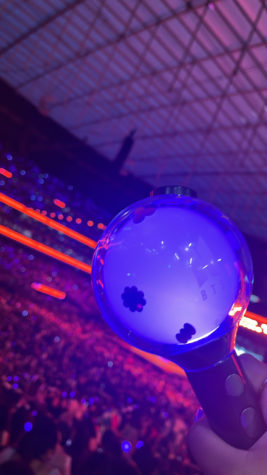 I really want to get tickets for Danielle Luna, a senior at GV and got into BTS when she was 11. She always related to Yoongi, due to her feeling like she related to him the most out of all the members.
She expressed, "He was honestly my role model for my adolescence and teen years growing up. I loved his passion for music and really loved the way he would depict his music. His music is what made me relate to him in a way."
The only tickets the website would let me click were out of the price range for both Danielle and I. All the tickets had packages along with them. There were a rare few that were the original price without any packages. Again, when I clicked on those again, it kicked me out.
I refreshed the page to hope that it would let me buy cheaper tickets. When I came back most tickets were gone. There were some tickets within the price range but Ticketmaster wasn't letting me select and buy more than 2 tickets. In the end I could only buy one ticket.
---
One Coin, Different Sides of Ticket Buying
I quickly texted Danielle explaining the situation and apologizing. I told her I could help her get tickets from resellers. Soon later, we got an email from Ticketmaster that explained that there was not going to be a General Verified Fan Presale or a General Onsale for the concerts.
Which is really disappointing. Not everyone was able to get into the ARMY presale and they were counting on the other sales to get tickets. Fans were outraged with Ticketmaster with how the Presale happened. Ticketmaster tweeted about the cancellation of the other sales and the replies displayed just how infuriated fans were.
One twitter user, MGKxLovato, replied,"How does it feel to be taking away experiences from fans with your horrendous prices?" In addition, twitter user jiminugh tweeted, "Ticketmaster is holding onto good seats and releasing them as PLATINUM after arenas look sold out to scam fans and break our banks…"
Danielle was quick to express her opinion as well communicating that, "IT WAS AWFUL! But I hope everyone who gets to see him has fun and actually appreciates him because there are so many fans, including me, that will probably never get the chance to see him. As long as there's no ungrateful fans going it's all good because Yoongi deserves the best for releases."
However, not everyone had such a difficult experience, Golden Valley alumni, Emily Flores, said that she was surprised by how lucky her ticketing experience was. "For other BTS concerts, I've been in the ticketing queue for more than 40 minutes, but this time it was only 20 minutes! The prices for the available tickets at first were way too expensive for my budget, so I was about to give up hope. But luckily some tickets within my budget popped up out of nowhere and I snatched them so fast!"
Counting Down the Days
This shows just how lucky I was to get the VIP package; it includes general admission for floor, soundcheck, a VIP gift item, a VIP laminate and lanyard, pre-show tour merchandise shopping opportunity, early entry to the venue and designating check-in and on-site VIP event staff. As one may imagine, it was quite pricey. Thankfully, my dad promised to pay for half of the tickets as a graduation gift.
In all reality, I just wanted the floor admission ticket however Ticketmaster was only selling the floor admission with the package. I have always dreamed of having VIP, but I'm a little disappointed that I didn't get to choose what type of VIP package I wanted. Usually, there are different packages such as Platinum, Gold and Silver.
I and other lucky fans are ecstatic for the day of the concert, May 10, 2023, to come around. I am so excited to see Min Yoongi (Suga) live again. During this concert, I hope to see his performance of "Agust D" because it is one of my favorite songs by him. Along with this, I am excited, and hopeful, to see a performance of "People".
"People" has been one of my favorites because of the way it perfectly explains the idea that nothing is permanent and change always happens in this world. In the second verse of the song, Suga introduces the idea how, "People change, just as I've changed / There is nothing permanent in the world / Everything is just a happening passing through."
As people, we always want to prioritize our happiness in the moment, like buying concert tickets, whether it benefits us in the future or not. And with that choice, we welcome change. Change is inevitable, it transforms us whether for the better or worse.
I firmly believe that in this journey of Suga | Agust D Tour, fans attending on May 10 will have their lives changed when they realize that they are in the front seats of seeing Min Yoongi (Suga) change into not just the KPOP Industry, but the world with his first solo tour. I think this really shows the importance of how his solo tour makes dreams come true, for the fans and Min Yoongi, and how this change seems like "…a gentle breeze / That people brush past."
About the Contributor
Danellie McIntyre, Staff Writer- Arts, Media, & Culture
Danellie McIntyre, or more commonly known as Nani, is a senior at Golden Valley. She's a staff writer for the Arts, Media, and Culture Team. Nani was at Golden Valley during freshman year and was a soccer manager for the freshman girl soccer team. She joined Golden Valley during October in 2022. 

Nani is passionate about covering music topics and books. She loves journalism due to the chance of covering things she is passionate about. It allows her to spread true news and entertaining topics. Writing gives Nani a sense of freedom. 

Nani spends her free time reading, listening to music and playing video games such as Valorant. She is a social media manager for an escrow company and a dog sitter and walker. Nani enjoys concerts and traveling.