Women's Empowerment: 'Dream it. Be it.' Conference Held at Golden Valley
"If you can dream it, then you can be it…"
February 10, 2023 — Golden Valley High School collaborated with 'Soroptimist International,' a global organization that advocates for women's rights. The program provided a women's empowerment conference for female-identifying students. The event dived into a deep discussion surrounding career topics, achieving goals, and moving forward after setbacks.
Attending students were divided into four groups to participate in physical and literary social exercises. Students participated in games like The Human Knot, a common icebreaker in which a circle of people must untangle themselves without letting go of others' hands.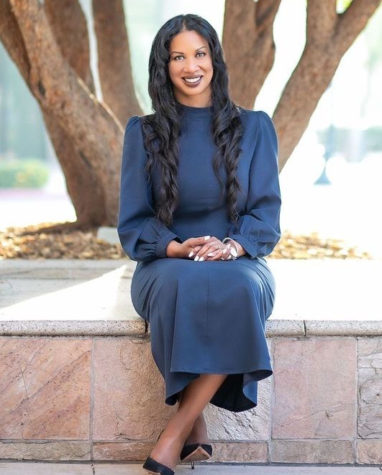 Additional activities included self-reflection on what the girls were passionate about and how to achieve short and long-term goals. Through the leadership of empowerment-focused mentors, the girls were encouraged to communicate with peers and group leaders to reflect on themselves, who they were, and who they wanted to be.
Through strategic social planning of separating attendees into smaller groups, the girls noted that they felt more comfortable being open and honest about themselves in their written reflections. When asked for elaboration, Golden Valley student Samantha Medina had this to say, "It's very supportive. I feel very comfortable, understood, and safe."
It can be extremely difficult, especially in High School, to find your own knack. Making groups like this incredibly valuable as young girls develop their own personal selves. Another Golden Valley student who attended the conference, Kayleen Rosenthal, added, "It taught me, and other people, how to help themselves. How to be independent."
Santa Clarita councilwoman Selina Thomas also attended the meeting to show her support and relations to Soroptimist. "I'm a Soroptimist sister. I am part of the mental program, and this year, I have been to all the 'Dream It. Be It.' events for all the different High Schools. We did Canyon last week and Valencia two weeks before that."
Selina's involvement is an inspiration to a lot of the young girls that are interested in politics. With politics being systemically male-dominated, her presence in an event like this provides an encouraging role model for the attending youth.
"When you teach something, you're also teaching yourself, and that means the most to me…"
Soroptomists' mentorship program strives to lead young individuals in group settings through obstacles and hardships and empower them to find solutions.
Brittany Tarlog, a 'Dream It. Be It.' mentor, joined early and has been a contributing member ever since. Not knowing how much this program would mean to her in the future, she has actively played a role in positively influencing the girls.
"I can be the best version of myself and give the best version of myself away. Being here is not about being the role model, it's about teaching young girls how to become them."
In addition to Tarlog's work in Soroptimist, she is also the Vice President for Junior Chamber International – a nonprofit organization made for the ages 18-40 – where the goal is to leave a long-lasting impression on their community through educational workshops.
Tarlog expresses that her goal for the girls is to take at least one thing they learned and apply it to the rest of their High School experience. It inspires them to strive for something and encourages them to find their voice and who they are and be okay with themselves.
"I want it to be a ripple. I don't want it to be something Brittney did' 20 years from now.' I want it to be what Brittney did to inspire Haylee, what Haylee did to inspire Sarah, and what Sarah did to inspire someone else."
The Only Female Non-Profit With a Seat at The United Nations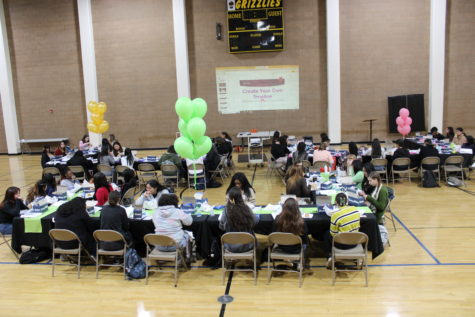 Oakland, California, October 3, 1920–during an age when women still did not possess the right to vote, a group of women banded together and started Soroptimist. The name stems from Latin roots meaning: Best For Women.
The organization expanded over Europe and has yet to stop growing. "We have just opened a federation in Africa, so now we have clubs all over Nigeria and other African countries," shares Maggie Gaughan, a leading collaborator of Soroptimist.
Gaughan services here in the local community for Seroptic International of the Americas (SIA). In addition, she chairs the national committee, attending conferences from New York to Atlanta.
Being involved in SIA's largest hubs in both regional and Soroptimists national committees, Gaughan shares insight into the organization's resources on a wider scale, "We have a United Nations Spokeswoman. When they have an open conversation about human rights, we have someone there representing women's rights worldwide."
"We are women helping women…"
Focused on the road to equality, Soroptimist federations united to improve education for women in Nepal. Breaking barriers where culture discouraged the practice.
Soroptimist's programs have actively enabled opportunities beyond borders through operations like clean water projects and building water wells in Africa.
Human trafficking is just one of the many issues the international program has also tried to address, especially in the Philippines and Thailand. Vast trafficking hubs like Los Angeles have also been a place of focus into which the program has put its resources into. "We worked very closely with Zoe International, also here in Santa Clarita, and they are 100% just focused on human trafficking," explained Gaughan.
Female Economic Empowerment
The 'Dream It. Be It.' subgroup of the global organization is known for its Live Your Dream Award–a scholarship and grant given to women who are heads of households – single moms, domestic violence survivors, and sexual assault survivors.
"We have a sexual assault survivor living in our shelters here in the community, and we will give her a grant and pay for her to go to dental hygienist school so that she can get into the workforce and start making a living on her own so she can get out of that situation," Guaghan elaborates. "We do it for single moms, too, giving them support when they return to school so they can provide a better life for their child."
In addition, the organization is also responsible for a program in Val Verde called the Go Girls. The program works closely with foster kids who often don't have access to necessities like feminine hygiene products.
"A lot of these girls have never worn a bra, they don't even know how to access a bra. So we bring them into bra fittings and get them bras and other things like tampons."
The program offers mentorship and guidance to young girls, as most of the children come from incarcerated parents. "On mothers day, we have the girls write mothers day cards to their moms or think about a woman in their life that inspires them. Many of them always pick the female sheriffs out there working with them."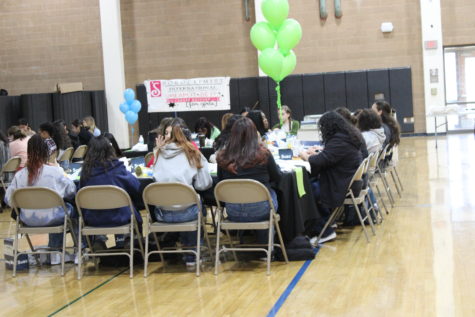 "It's an amazing nonprofit. We encourage you to become a member because you will thrive."
The inspiring mentors of 'Dream It. Be It.' encourage young people to partner with Soroptimist.
As a member, attendees can surround themselves with strong women who are trailblazing and making way for women in the career world and just women in life.
Their members include women on the city council, real estate agents, and even the head of Newhall Hospital, Renée Leon.
"All of us are working towards one goal. That goal is to empower women and empower young girls, and it starts with you guys."
About the Contributors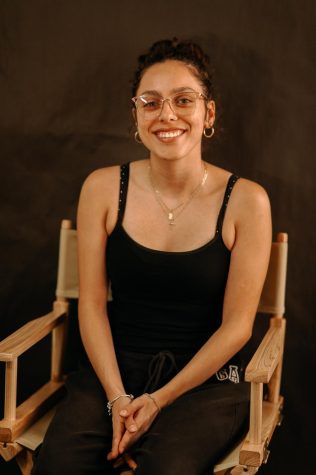 Hannah Medellin, Staff Writer- Campus News
Hannah Monet Medellin is a twelfth grade student at Golden Valley High School. She is active in her school by being a staff writer for the new Grizzly Gazette, and a peer counselor at the GROWL center. She began peer counseling in the eleventh grade and has worked her way to the honors peer counseling. Hannah is an avid reader and plant owner. For most of her life she found herself lost in the thoughts of others that shared it through ink on a paper. When she was fourteen she began to fall back into her love for plants and has plans to have her own greenhouse someday.

She has always had a love for reading and writing and can't wait to participate in reading everyone's articles and sharing her own. Showing the creativity of others is her goal. If there is any short story, poems or art that wants to be submitted she'd love to share it in her articles!
Isela Fisk, Editor-in-Chief
Isela Fisk is a staff writer for the campus news division of Golden Valleys' student newspaper. While her hyper-fixations range from animal crossing to multimedia design, falling into the niche rabbit holes of pop culture is arguably her special skill. As a senior, she was ecstatic to participate in her passion for journalism during her last year of high school. Her visionary perspectives have earned her recognition in the past for poetry and short story events. She firmly believes that her duty as a community-focused writer is to commit to truthful and thorough reporting as she grows inspiration from covering public issues.

Since age 14, becoming a contributor to the well-being of her community has always been a priority, donating her time to assist food pantries and homeless shelters. To shed light is to make a difference. This is the power journalism had always had for her; recognizing it when she understood journalists were the link between media and the public. 



"It's...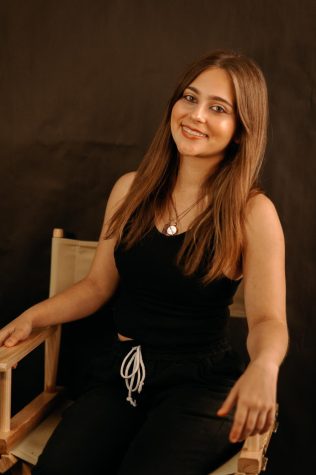 Morgan Veloz, Managing Editor, Photography
Morgan Veloz is a senior journalist at Golden Valley High School. Her interests include sports and spending time with family and friends. With her love of sports, it was no surprise that she is on the sports news team. With that, she is also a sports broadcaster and interviews spotlight light athletes, teams and coaches. 

She enjoys being a student journalist because it helps keep us updated with stuff going on on and off campus, which she really wish she had her first 3 years here. She coaches softball and hopes one day to be a FBI agent. She enjoys investigating and reporting but also the idea of doing work that helps the world a little bit.

She looks forward to seeing the newspaper grow and see herself grow as a writer.