This Years Success of Golden Valley's Boys' Varsity Soccer Team
While the soccer season has already come to a close, the boy's accomplishments this season were nothing short of remarkable. Let's reflect on the massive success and achievements of the 2023 Boys' Varsity soccer team.
The boys soccer team faced many challenges such as losses and ties throughout the season. On top of these external challenges, internally, players shared with The Gazette the boy's chemistry and communication skills were not at their best at the start of the season. As a result, the team's spirit declined, and lacked confidence in the season's turnout.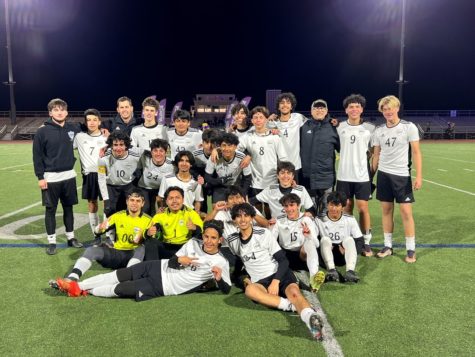 In the middle of their rough patch, the boys made a change. The team knew that changes had to be made to succeed and improve upon their teamwork– and changes that would later see them do just that.
The season would ultimately be one of their most successful seasons yet. Gv Boys' Soccer plays sat down with The Gazette to reflect on their performance this season.
"The first half (of the season) was iffy… but the second was phenomenal. We had a lot of skill, but the camaraderie between the team… we had all known each other since freshman year and the chemistry between us just finally clicked," explained Arya Soleimani, a senior on the Boys Varsity Soccer team.
Once the boys began working well together, their games improved; in a match against Canyon High School, the boys won 4-0. But that was just the beginning. They would follow up in a close match against Saugus High School where they won 3-2 and then again in a match against Valencia High School where they won 2-0.
Their hard work and improvements showingly paid off when the boys experienced win after win. The boys would go on to be victorious for six consecutive matches, even going as far as taking their success to the playoffs.
Although the varsity soccer team made it to playoffs last year, they were eliminated in the first round of the playoffs. This year, not only were the boys able to make the playoffs — which is an impressive feat for Golden Valley history — but they were also able to make it to round 3 of the playoffs.
Unfortunately, their streak came to an end after being eliminated by Palm Desert High School in a very close match of 0-1.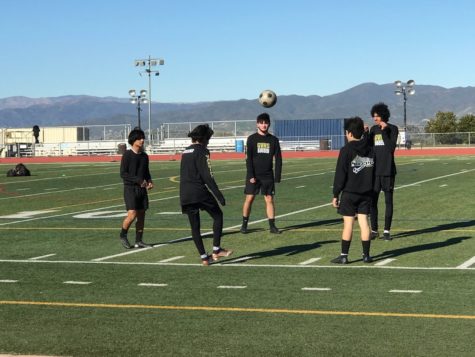 Their noteworthy performance this season even went as far as making headlines in Santa Clarita's "The Signal" who would go on to write two articles about GVs soccer team. Not only that but history has been made with their performance this semester. The Soccer Program has never seen a season like this before.
"This season has been the best season Golden Valley Boys Soccer has ever seen. Not just the success of our varsity team, but the success of the entire program…" mentioned Coach Stephen, Boys Varsity Soccer Coach, in a message to all those who played this season or supported the soccer program here at Golden Valley.
Though they lost their last game, this season is important to Golden Valleys Soccer Program because of their new accomplishments. Before this, Golden Valley's soccer program was never considered a competitive program. The program was never really pushed to make a name for themselves. However, this will motivate the soccer program for years to come.
"I think that it's only up from here now (for the soccer program) because of how we played this year," Alex Risdon, Junior, Boys Varsity Soccer Player emphasized. Fortunately, it was many of the players last season as they were seniors which makes their accomplishments this season all the more satisfying.
This will motivate Junior Varsity Soccer Players to put forth their best performance and effort in their senior year season to have a satisfying end to their High School soccer experience.
After the end of the season, the boys soccer team attended a banquet where players received awards for their successful performance throughout the season.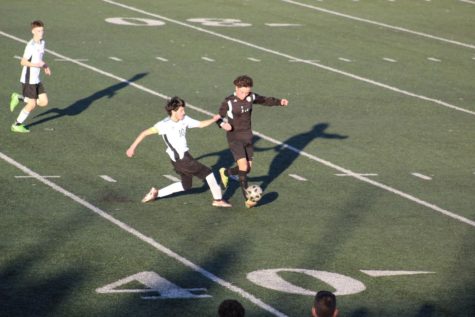 Although the soccer season has come to an end, it's safe to say that the soccer program here at Golden Valley High School has been very successful this year, and as a result of their amazing performance this past season, the program will reap from the success and continue improving moving forward.
About the Contributor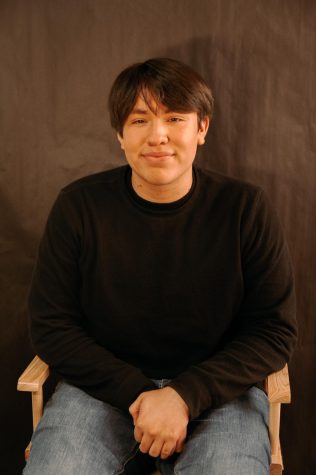 Diego Rosas, Staff Writer- Sports News
Diego Rosas is a staff writer on the Community News Team at The Grizzly Gazette. Now in the 12th grade, Diego is a senior at Golden Valley High School. Having attended GV for just one year, Diego is eager to make an impression on the school be it through his writing. Diego is very invested in sports and on campus events therefore he is hoping to cover stories regarding such.

Being in this newspaper, Diego believes, is an indication of how far he has come as a student. Diego has not always been a very good student. In fact, he struggled with much of middle school and high school due to his past inability to stay organized and motivated but in spite of that he is now doing the best he has ever done in school. In addition, being a journalist is important to him because it allows him to have a voice and to spread information to the school in a way that reaches all audiences positively.

Diego enjoys working out, taking photos, going on walks, spending time with friends and family, reading,...