Run BTS: ARMY's Quick Happiness
Run BTS is a variety show hosted by the famous K-pop group, BTS. Members, RM, Jin, SUGA, J-Hope, Jimin, V, and Jungkook, participate in a variety of entertaining activities, games, and challenges. The first episode aired on August 1st, 2015. ARMYs around the world waited anxiously for episodes, and it quickly became a comfort show for many. The show is now on a 2-year break until all seven members complete their required military service for South Korea.
Who is BTS?
The group BTS (방탄소년단, Bangtan Sonyedeondan), is a seven-member boy group created by Korean music company, Big Hit Entertainment in June 2013. They debuted with their single album 2 Cool 4 Skool and continued to grow as a group, staying together for 10 years.
The members consist of the leader RM (Real Me), whose real name is Kim Nam-Joon (김남준), the oldest, Kim Seok-Jin (김석진), who is known as Jin (진), SUGA (슈가) or Min Yoongi (민윤기), J-Hope (제이홉) or Jung Ho-Seok (정호석), Park Jimin (박지민) who goes by his first name Jimin (지민), V(뷔) or Kim Tae-hyung (김태형) and the golden maknae, Jeon Jung-kook (전정국) who also goes by his first name, Jungkook (정국). BTS has 3 rappers and 4 vocalists, however, one rapper J-Hope is a sub-vocalist, and one singer, JungKook is a sub-rapper. The group has a dance line that consists of J-Hope and Jimin, who are the main dancers, and V and JungKook, who are the lead dancers.
It is highly known that BTS paved the way for K-pop. They have started many trends and are the first to reach many achievements. The group became South Korean diplomats and were special envoys for the United Nations (UN). They spoke at the UN twice due to their "LOVE YOURSELF" campaign with the United Nations Children's Fund (UNICEF). BTS wants everyone to value and love themselves.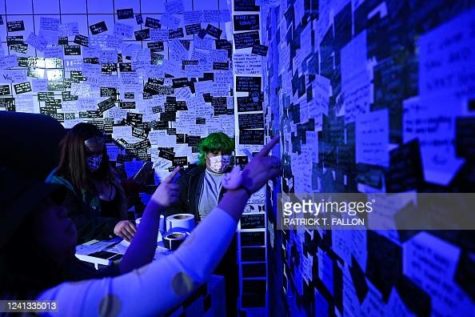 Golden Valley Senior, Kayla Vann-Argana, has been an ARMY since 2016 and felt most proud as an ARMY when Namjoon spoke at the United Nations, "It shows how impactful they are and shows how far they have come."
They are the 5 time Grammy nominees. BTS has worked with Western artists including, Nicki Minaj, J-Cole, Halsey, Steve Aoki, Snoop Dogg, JUICE WRLD, Coldplay, and Megan Thee Stallion. They have received recognition from big stars such as Lizzo, Taylor Swift, and John Cena, and some members have been wished a happy birthday from Beyoncé on her website.
This is all just a small percentage of what BTS has accomplished. BTS supports their fans, ARMY which stands for Adorable Representative M.C. for Youth, just as much as ARMYs support BTS. ARMY is the name that BTS gave their fandom. BTS communicates with ARMY almost daily and tries to go live on Weverse as much as they can. October 15, 2022, BTS had a free concert in Busan (부산) and had roughly 70,000 people from all over the world. ARMY is just as outstanding as BTS. They once matched BTS' donation of $1 million to the Black Lives Matter organization. Both ARMY and BTS are amazing individuals who support each other as much as the other.
The Grizzly Gazette was able to interview Twitter user prodtaehyung_, who has been watching RUN BTS since 2017 when asked what their proudest moment as an ARMY was, "…My proudest moment is whenever they receive an award and the first thing that they will do is thank ARMY…Despite all of these achievements, BTS are still the humble boys that I have known, I look forward to more awards that they'll receive as a solo artist and group in the future."
In 2017, BTS won their first Billboard award, the Top Social Artist. It's an award given based on music streams and how much the artist interacts with their fans. BTS has been winning this award since 2017. However, the group doesn't need an award to show how much they love their fans.
Kaitlyn Phung, a Senior at Golden Valley High School, has been an ARMY since 2015 and confided that due to BTS, her mental health started to get better. "Middle school was a hard time for me. I didn't really know who I was. The fact that they (BTS) started to promote Love Yourself and all these positive messages that some artists don't put in their music as much as they do (BTS), it really started to make me feel valid."
"
Valid for feeling this way, valid for feeling down, or it's okay to have some bad days. They gave me hope."
— Kaitlyn Phung, Senior
Dallyeora Bangtan!
The variety show, RUN BTS! (달려라 방탄!), is a variety web show available on Weverse and Youtube. The first episode was aired on August 1st, 2015 with the opening song "Dope" by BTS, and every Tuesday a new episode was dropped.
They took a year break until starting again on January 31, 2017, with episode 11. On July 23, 2018, once the 56th episode aired, another year break took place, and came back on January 1, 2019. The show paused on episode 141, on May 11th, 2021 due to album promotions, and weren't planning to come back until June 15th, 2021.
They posted three new episodes pausing again until August 16, 2022. The show released 10 new special episodes, before taking their longest break due to mandatory military service.
With every break, the show came back to new opening intros and the fans loved to see what the editors created. Each intro had a different song such as, "Fire", "Blood Sweat & Tears", "IDOL", "ON", "Butter", "Boyz With Fun", and "RUN BTS", songs all by BTS.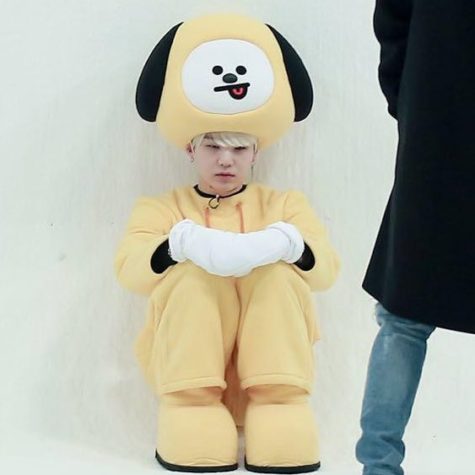 Whilst RUN BTS was on break, fans constantly shared their favorite moments and rewatched episodes. Episode 57 "BTS Chef 1" was an episode posted on January 1, 2019, and has over 17.5 million views. The members make groups of two, two, and three.
The first group consisted of Jin and Jungkook, the rap line, RM, J-Hope, and SUGA, then Jimin and V. The episode was filled with funny chaos. Jimin and V kept losing the challenges but they still managed to make the episode amazing.
Kayla has been watching RUN BTS since early 2018 and loves episode 38, "Spin BTS." The episode shows BTS split into two teams and SUGA in a Chimmy costume. "I usually watch the earlier episodes to feel better. Episode 38 is my favorite because it shows how they truly are when they're with each other and it makes me feel all sappy."
Another popular episode is episode 52, "BTS Escape." The members have to run from zombies while solving clues. ARMY know that J-Hope gets scared easily and they loved watching his reactions to the zombies.
BTS Becomes "ARMY"
In South Korea, all able-bodied men ages 18-35, must serve in the military. Men can be exempt if they have health issues, or if they have a certain profession. The enlistment ranges from 21 months to 24 months.
BTS inspired a law due to the circulative conversation about if they needed to do military service. The law is known as the "BTS Law." Due to this law, people who have received South Korea's Hwagwan Orders of Cultural Merit, helping enhance the country's influence, can be exempt from the military. Not only does BTS have an immense influence, but they also bring about USD 5 billion to the South Korean economy. However, in October of 2022, BTS' company, BigHit announced that the members would go forward with their enlistments.
Kaitlyn admitted that she had a fallout with BTS but got back into them in 2019 by watching RUN BTS. "BTS are my top artist on Spotify and when I'm about to eat, I put on the show. It's my comfort show. Just to get to know the members more and connect with them as a group." RUN BTS gave ARMYs a chance to see the members' personalities.
"
It's like free therapy for ARMYs every Tuesday."
— Twitter User @-Prodtaehyung_
This break is the longest break that RUN BTS had experienced. ARMYs on Twitter make threads and ARMYs on YouTube make compilation videos. They allow other ARMYs to revisit their favorite moments. Popular YouTube creator, tiqer taehyunq, has been making multiple videos of clips from the show. Twitter user, kosmicyoon, tweeted, "I miss my seven very much so can you guys show me your favorite run bts moment" and ARMYs have been describing and replying with videos of moments they loved. Twitter user, Preyoti_1, tweeted a thread of RUN BTS clips and it has received over 3,000 retweets and 12,000 likes.
Prodtaehyung_ continues by adding, "I am looking forward to the new episodes when OT7 is back. For now, I'll rewatch my favorite episodes and feel like I'm watching them for the first time."
During this hiatus, ARMYs rewatch RUN BTS and stick together. They know 2 years isn't forever and 2025 will come any day. A popular saying that keeps ARMY going is, Apobangpo (아포방포), ARMY forever, BTS forever.
ARMY and BTS Hwaiting!
About the Contributor
Danellie McIntyre, Staff Writer- Arts, Media, & Culture
Danellie McIntyre, or more commonly known as Nani, is a senior at Golden Valley. She's a staff writer for the Arts, Media, and Culture Team. Nani was at Golden Valley during freshman year and was a soccer manager for the freshman girl soccer team. She joined Golden Valley during October in 2022. 

Nani is passionate about covering music topics and books. She loves journalism due to the chance of covering things she is passionate about. It allows her to spread true news and entertaining topics. Writing gives Nani a sense of freedom. 

Nani spends her free time reading, listening to music and playing video games such as Valorant. She is a social media manager for an escrow company and a dog sitter and walker. Nani enjoys concerts and traveling.