Journey to the best football season in Golden Valley History
Playing football for Golden Valley has giving me a great experience throughout high school. I came into into the 9th grade no knowing anything about football, to being apart of the first team since 2017 to go the CIF championship my senior year. We'll get into that later, but to get to that point took a lot of hard work from me and my teammates. Many days spent on the field and a lot of chemistry built made this 2022 Golden Valley Varsity team.
Week 1 – Golden Valley vs. Newbury Park
The first game of the season let us know where we are at as a team.
At the beginning of that week, Head Coach Daniel Kelly was exposed to Covid-19 and was not able to participate in that week's game. We already knew coming into this game without Coach Kelly and injured players was going to be a challenge. Both teams came out slow punting the ball, for a while it was back and forth. By the end of the first quarter, the score was 12-14 Newbury Park leading. Unfortunately, by the end of the half Newbury was leading 31-14.
But, we weren't done as a team– we were facing true adversity. Nonetheless, a couple of injured players and missing a head coach didn't stop us from competing and giving it our all. At the end of the game, the score was 38-21 with Newbury Park on top. We knew we were better than that game and those mistakes made. We didn't let that loss define us as a team.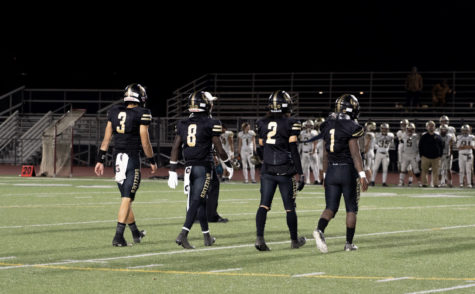 Week 2 – Golden Valley vs. Antelope Valley
After losing the first game of the season, practice the next week was no joke. We approached this game like it was the last game we would ever play.
On the opening kick off Wide receiver Ajani Smith returned it for six, setting the tone for the rest of the game. Only within a couple of minutes Golden Valley was leading 14-0. Defense came out with turnovers and Offense returned the energy with touchdowns. The whole team was fired up. This was a great way to welcome back Coach Kelly for missing the first game of the season. By the end, the score was 41-6 with GV Dominating and bouncing back from adversity.
This was only the beginning.
Week 3 – Golden Valley vs. Quartz Hill
After coming back from a win, Golden Valley faced Quartz Hill in one of the worst heat waves of the year.
Due to the hot weather, the entire Foothill League was not allowed to practice in the afternoons, which forced us to start 5 am practices. But we wouldn't let stop us from putting 110% into that game. Yes, it was a challenge for all of us but winning was more important. This game was a battle for all of us. Golden Valley led 9-7 in the first half and held Quartz Hill to only 90 yards. At the beginning of the fourth quarter we led 16-7 and middle linebacker Malachi Beacham sealed the game with a last-minute interception. Our Quarterback Christopher Melkonian expressed tat the beginning of the game…"We did not get up at 5 am for the past week for nothing. Let's go out there and do what we came here to do."
We did exactly that and came out with a win.
"
We did not get up at 5 am for the past week for nothing. Let's go out there and do what we came here to do."
— Chris Melkonian, Quarterback
Week 4 – Golden Valley vs. Garfield
This week we traveled to the city section to face off against the Garfield Bulldogs on their home field. This was my first time playing in a rainy high school football game. This was one of the hardest games of the season for us due to the muddy grass field and playing a good team. But we didn't let a little rain get in the way of accomplishing our end goal to win the game. Coming out with 15 unanswered points and the second-best start in school history. That wasn't going to be enough; defense needed to show up, and we did.
Golden Valley had 6 turnovers that game with a forced fumble by Malachi Beacham and a last-minute interception in the red zone by yours truly to set up the last touchdown for offense. Yeah, offense scores points, but defense wins games. Golden Valley defeated Garfield 29-19 going 3-1 ending off the preseason with another win.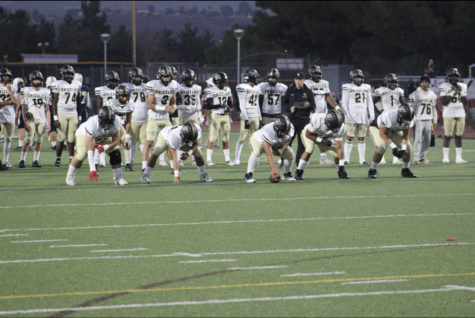 Week 5 – Golden Valley vs. Castaic
The first league game of the season was against Castaic High School. Coach Kelly expressed to us… "We need to approach the Foothill League like playoffs so that we can be prepared because the Foothill League isn't easy." We took that to heart and showed it at practice and on Friday night. Coming into the league 3-1 gave us confidence which carried us through this game. Starting 5 out of 10 possessions inside Castaic territory gave us many chances to put points on the board. Defense played lights out, not allowing any points the entire game.
After an interception by Safety Dallas Landry in the fourth quarter, Isaiah Orozco rushed 12 yards into the end zone to make the final score 41-0. It was such a great way to start the first league game of the year, but we knew that was only the beginning.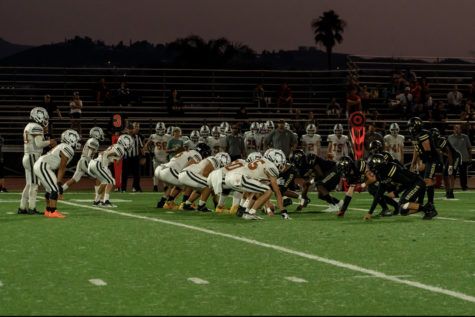 Week 5 – Golden Valley vs. Hart
One thing we knew coming into this game was that it was personal.
Since my freshman year, GV vs Hart has always been an intense game. After beating them 3 times in the regular season and the second round of playoffs in the summer 7v7 tournament, we knew they would come out fired up. GV came into this game with confidence and a game plan to shut down the offense. Defense understood the assignment and completed it. Although Hart did score 20 points, offense showed up and scored 31 points by the end of the game making it the fourth time Golden Valley had defeated Hart since 2019. Even though we caught the dub that day, we knew we should have performed better.
Going into week 7 4-1 playing against Valencia High School, we had to step up our game to be ready.
Week 7 – Golden Valley vs. Valencia
This was also one of the most important games for Golden Valley. GV had never beaten Valencia in the regular season before in school history.
We approach this game the best we could with long film studies and extra attention at practice. Knowing how big it would be to be the first Golden Valley team to beat Valencia was a big weight to carry on our shoulders. Coming out strong in the first half with the score only being 21-14,Valencia came out with a different game plan and adjusting, they end the game with 41 points and Golden Valley remaining with 14 points. This was a humbling moment for us as a team. We knew we could have played better in the second half but Valencia was the better team that night. This was a lesson of finishing, and we did not do that. Nevertheless, we didn't let that loss define us, we knew our mistakes and needed to fix them going into week 8. With the exception of leaving the job to beat Valencia to the 2023 team.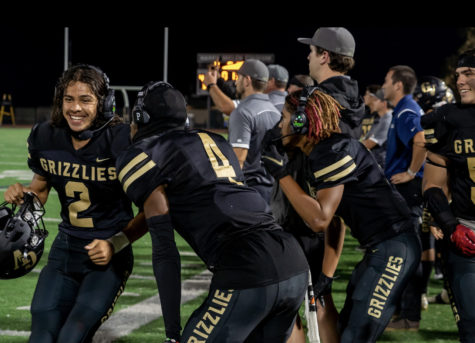 Week 8 – Golden Valley vs. Canyon
Golden Valley and Canyon have always been rivals since I could remember. After a humbling loss in week 7, We knew that we could not lose to Canyon. Golden Valley has never lost to Canyon and we weren't going to be the first team in school history to do so.
Although they had never beaten us, Coach Kelly let us know they would come out to compete and they surely did. All game it was back and forth with turnovers. GV was surprised because we have never been in this close of a game with Canyon High School. We underestimated them and they knew that. With Canyon missing both of their field goals, it left the score at 12-14 by the end of the fourth quarter.
This was a lesson not to underestimate your opponent no matter what. Still came out with the win going 6-2 into week 9 but at the end of the day Canyon earned our full respect from that point on.
Week 9 – Golden Valley vs. West Ranch
This week we played one of the best teams in the state of California. West Ranch being undefeated, and being our next game, meant giving this game our all win or lose.
Unfortunately, it didn't go as well as we wanted it to. The first half only giving up 2 touchdowns and scoring ourselves left the score at 14-7. But that night West Ranch proved to us why they were undefeated, finishing the game with 35 points and Golden Valley remaining at 7. We knew they were a good team and they deserved that win. Sad to say GV took a loss that day but we won as a team and we lost as a team, as long as we went out and competed, nothing else mattered.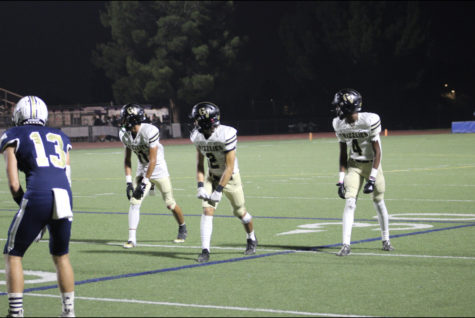 Week 10 – Golden Valley vs. Saugus
This game was a super important game for us because this was Golden Valley's first chance to make the second team in the Foothill League and win an automatic spot in playoffs. If we lost this game that would make us tie third in the league with Valencia, and our chance of getting into the playoffs would be decided by coin toss. Starting the game the worst way by fumbling on the opening kickoff gave Saugus automatic momentum. We had faced a lot of adversity this game but we kept pushing. Sadly that wasn't enough. Saugus ended up winning 31-13 and this was sickening. Ending off the season 6-4 was not the way we wanted to go out, not knowing if we would make it to playoffs or not. The seniors that night felt like we played the last game of our high school careers.
Later that Sunday Golden Valley had a miracle granted and won the coin toss. We knew all this hard work wasn't for nothing and we had to take advantage of this blessing. Ever since losing in the first round of playoffs in 2021, Our main goal has been to make it to the CIF Championship and this was our chance.
---
Playoff game #1 – Golden Valley vs. Summit
This was it: the opportunity to take Golden Valley through the playoffs and play in the CIF Championship.
We weren't going to let go of this opportunity like the year before. Summit was more of a run-dominant team. The objective was to stop the run of this game and force them to pass the ball. That gave our middle linebacker Malachi Beacham to make plays. Beacham averaged 13.5 tackles a game and with him, we shut down the run. This forced Summit to pass the ball and with the power of our D-line, the secondary made it hard for them. This gave our offense the chance to score points. The final score was 28-14 with Golden Valley winning their first playoff game since 2017. This was a special moment for all of us but we knew the job was not finished.
On to the next.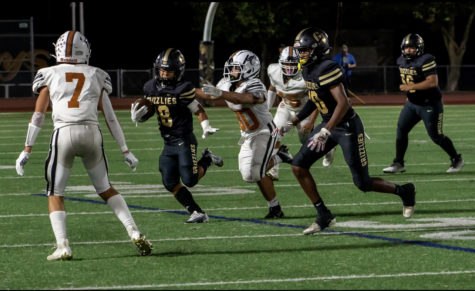 Playoff game #2 – Golden Valley vs. Paloma Valley
It's one thing making it to the second round of playoffs, but winning was the real statement.
That week we traveled an hour and a half to Paloma valley and we weren't going down that far to lose…I knew that so did the team. While getting ready in the locker room Coach Kelly came inside to let us know that he overheard Paloma talking and heard them say "It's going to be a long bus ride home for Golden Valley." That fired us up and let us know what we were fighting for. Next thing you know we come out scoring 2 touchdowns off the bat. Defense was hyped up and offense matched the energy. Paloma had a hard time throwing the ball with our Safety, Dallas Landry intercepting the ball 3 times in one game. It was nothing we had ever seen before. The result was 42-28 with Golden Valley on top once again. We were on a mission that wasn't gonna stop until we achieved it.
Playoff game #3 – Golden Valley vs. Mayfair
This was the game that declared who will be going home and who will play in the CIF Division 7 Championship game. Everyone knew the importance of this game. We wanted it bad but so did Mayfair. Our offense did a great job coming out and scoring first and the defense responded with a turnover to give the offense a two-score lead in the first quarter. But Mayfair did not panic, they came out in the second quarter and responded with 2 touchdowns for themselves, tying the game going into the second half. Both teams are fighting for a spot on the big stage to put their schools on the map. It was a battle of who wants it more. Going into the 3rd quarter with Mayfair getting the ball first and punching the ball in the endzone. Golden Valley responds with a touchdown but misses the extra point making the score 21-20 going into the fourth quarter.
From this point on it was all or nothing. With 9 minutes left in the game, Mayfair has the ball and throws an interception to Strong safety Donteo James-Williams giving the Grizzlies one more chance to put points on the board and finish the game. After that, Christopher Melkonian threw a 35 yd pass to Ajani Smith making the score 26-21. Mayfair gets the ball one more time and ends up having to punt on fourth down which lead to a fumble, giving the Grizzlies 17 yards in Mayfair territory. GV scored one more time leaving the final score 33-21. After a long battle, Golden Valley advanced to the CIF Championship to face off against Laguna Hills at home.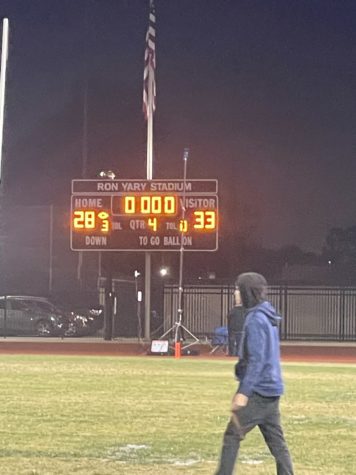 Southern Section CIF Division 7 Championship game: Golden Valley vs. Laguna Hills
This is it. All the days spent on the field, all the film sessions, and all the wins and losses– for this one game.
Practicing for a game is one thing but practicing on a Thanksgiving week to play in the championship game with my brothers in front of our home crowd is different. I loved every moment of it. Walking onto the field that night looking at everyone from the district to come to watch us play and support us in this moment was the best feeling ever.
First quarter both teams started strong and made their presents. Golden Valley starts with the ball and Chirs Melkoinan knows what to do with it. Melkonian threw a deep pass to Ajani Smith and Smith caught the ball on the 9-yard line leading us to our first touchdown. Laguna Hills next possession responded with a 35-yard pass touchdown of their own. Both teams were fighting for more than themselves and we're gonna do anything to win. With the same result in the 2nd quarter, both teams scored leaving the score 14-14 at halftime.
We went inside the locker room and had a moment of silence. We were sitting in that moment of knowing you're going to war and not knowing who's going to come out on the other side.
But we all looked each other in the eyes and realized this is where we belong. So no matter what happened on the field we did it together and that's the only thing that matted. Nevertheless, we were chasing a title…the title.
The third quarter starts and Laguna gets the ball first. Troy Leigber runs for a 75 yd run making the score 21-14. We didn't let it faze us though. Golden Valley makes it to the one-yard on a 4th and 1 and Malachi Beacham punches it in making the score 21-21. Back and forth, back and forth, the most unpredictable game I've ever been a part of. Laguna Hills end up scoring another touchdown and Golden Valley responded with one of their own. Laguna Hills jumped over the center and blocked the Golden Valleys PAT leaving the scoring 28-27. We were devastated by in a turn of events. We weren't sure if it was a flag or not; fans were screaming, coaches were talking to refs, it was a whole controversy.
In the end, no flag was called and the score remained 28-27. The game was over.
The final game of the season was a loss, but not just any loss. This was the most important game of our high school careers, and we lost.
It didn't seem fair; all the hard work, all the pain and tears gone into the season felt like nothing. Nevertheless, Coach Kelly huddled us up and let us know that it was gonna hurt losing, but we couldn't let all the hard work and sacrifices it took to get to the Championship go unnoticed.
---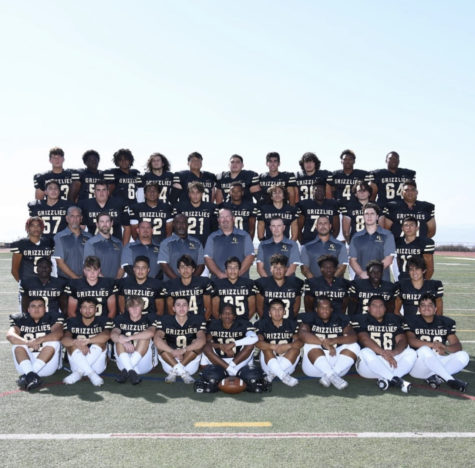 Football taught us the little things you need to know to go out into the real world. It taught us how to show up on time to events, taught us how to work towards something without giving up, and especially taught us how to come together as a team and work towards something bigger than ourselves. That was the most important thing about GV Football; we were a family and we had each other's back, win or lose.
The seniors may have lost the our biggest game, but that 2022 season we left with multiple All Foothill League players, multiple All-CIF players, and multiple MVPs. We were ending the season off 9-5 and having the best record in Golden Valley Football History. This was a special season at Golden Valley and I will never forget all the memories I made playing football.
As the seniors leave, it is up to the next group of Grizzlies to go and win the CIF Championship.
About the Contributor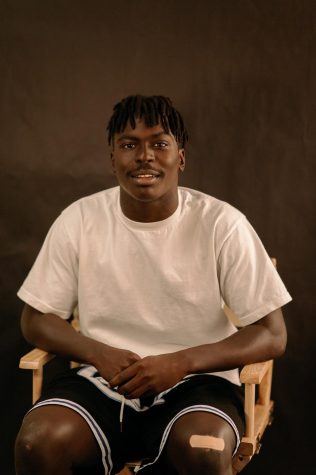 Donteo James-Williams, Staff Writer- Sports News
Donteo James is a Senior and staff writer for The Grizzly Gazette. He is a part of the school Sports News Team. Donteo is also a 4 year football player for Golden Valley. Donteo was awarded defensive player of the year in 2020, and plans on getting another award this year. He has been playing football since his freshman year at Golden Valley High School and he plans on letting everyone know how great GV is.

Donteo is very excited on covering school campus and sports news. Being a student writer for The Grizzly Gazette means a lot to Donteo, because he feels that it's important to always tell the truth and be the voice for people.