'Scream' 6 Review
On March 10, 2023, Scream VI was released as the newest sequel to Scream V from 2022. This sequel has a new budget, a bigger cast, and even more deaths. The franchise got a new location as the four heroes moved to New York City, leaving behind the fictional town of Woodsboro, California, where the rest of the franchise took place.
As of now, there are six total Scream movies. From the first to the fourth, they have been about Sidney, the final girl in this franchise. The latest two that came out in 2022 and 2023 have been about Samantha Carpenter, the daughter of Billy Loomis, the original killer in the first movie. Scream VI, however, took a whole new direction in things, especially in location.
The rest of the movies take place in the fictional location of Woodsboro, California. Scream VI is the first time the Franchise's location takes place somewhere else and new, the big apple, New York. This was a great decision, I loved how they take on this setting, especially with the usage of the New York Subway. With it being Halloween, as everyone was dressed in costumes and it was crowded, this made the movie just more challenging than the last.
For all the previous movies, there were some issues such as something that made sense or just doesn't add to the movie. Many think that the franchise is dragging these movies and running out of ideas. There was also a problem with how some of the characters did not die when they should have because of how injured they were.
Some scenes made it into the movie and made it better, cooler, and shocking though we did not have the original final girl, Sidney Prescott, we did get Gale and another well-known character.
Jackson Torres, a Senior at Golden Valley states that his thoughts on the movies as he's always enjoyed them but this one was one of his favorites. He liked the plot twist and how well the characters all fooled us. He then states that what he finds more interesting from this movie than the last was, "Jenna Ortega playing "Tara" had a much bigger role in this movie and she's a great actor so that was good to me." His favorite part of the movie was the ending and how big of a plot twist it really was, and not expecting that outcome.
Jenna Ortega recently blew up, starring in many movies such as, 'X' (2022), 'Scream' (2022-2023), and even the series 'Wednesday' (2022), Many outlets even confirmed she will be starring in the new Beetlejuice movie. Some even only saw the movies for Jenna Ortega.
Danielle Luna, a Senior at Golden Valley High School states, "Pretty early teen years I remember watching the parody, Scary movie first but it got me interested in Scream and I really liked the actors like, Derry Barrymore, Matthew Lillard. Obviously, my favorite one is the first movie. After that, it's the fourth one. I mean I like the new adaptation but they just don't hit as much as the old ones." when asked about what she thought about the movies.
The parody versions of Scream, 'Scary Movie' seemed to catch a lot of attention for being the funny version, and it was a way for many to get into the Scream franchise. Newer movies are not that enjoyable by having the same plot or adding new characters that are not likable.
Luna expressed her opinion on Scream VI, "I believe this one was way more interesting than the last I'm not gonna lie, the suspense kept me interested while watching the movie, I was at the edge of my seat and I think the actors were also cool, they had Jenna Ortega, who is becoming a new face for slasher films this era. Then they had Samara Weaving from The Babysitter, with them being included, I was like oh my god queens.The plot was kind of predictable but at the same time, it wasn't. It wasn't as predictable compared to the last Scream V movie, this one was way more interesting along with the filmatography and visuals that impacted important scenes– like the Halloween train scene."
Many seemed to have enjoyed Scream 6, and it outperformed 2022's Scream V. Though it has not been confirmed, there have been talks for a Scream 7, and co-director Matt Bettinelli-Olpin even hopes for there to be a Scream VII.
About the Contributors
Danellie McIntyre, Staff Writer- Arts, Media, & Culture
Danellie McIntyre, or more commonly known as Nani, is a senior at Golden Valley. She's a staff writer for the Arts, Media, and Culture Team. Nani was at Golden Valley during freshman year and was a soccer manager for the freshman girl soccer team. She joined Golden Valley during October in 2022. 

Nani is passionate about covering music topics and books. She loves journalism due to the chance of covering things she is passionate about. It allows her to spread true news and entertaining topics. Writing gives Nani a sense of freedom. 

Nani spends her free time reading, listening to music and playing video games such as Valorant. She is a social media manager for an escrow company and a dog sitter and walker. Nani enjoys concerts and traveling.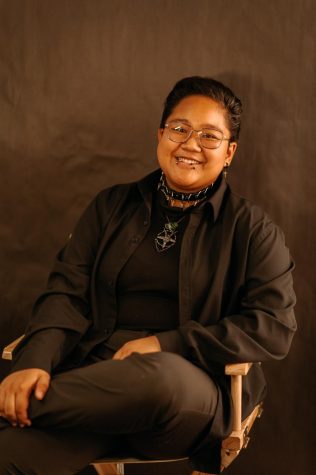 Veniz Rahon, Managing Editor, Arts, Media, & Culture
Veniz Rahon is one of the Managing Editors of the Arts, Media, and Culture News Team for The Grizzly Gazette. Born and raised in the Philippines prior to moving into the United States, they want to bring a new and different perspective into our world news. They strives to bring change in our local city through completing community service with the Golden Valley High School AFJROTC Program; they have participated, cooperated, and lead multiple community service. With a fierce competitive spirit they joined and reached Level 3 of the AFJROTC Academic Bowl.

They is passionate about delivering world news in a new and refreshing way, they strive to inform and showcase topics concerning other cultures, arts, media, and technology. Being a student journalist Veniz Rahon expresses their, "... hope to give people different perspectives and highlight topics that I find news worthy for people to hear."

They love to listen to music by themselves or with their close friends, they enjoy going...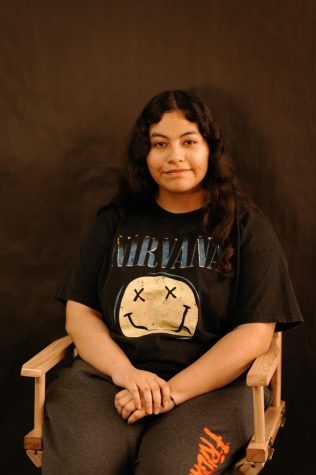 Ashley Chinchilla, Staff Writer- Arts, Media, & Culture
Ashley Chinchilla is a senior at Golden Valley high school and is part of the new journalism class. She was born in Sylmar, Los Angeles, California, and raised in Santa Clarita. She is excited to write stories about Culture, Entertainment, Arts, and Local community issues since there are interesting topics to write about and to alert everyone of what is happening in the world and it's very easy to catch visuals of these stories that can get a lot of viewers.

She loves to paint, read, and do photography, she also loves Halloween. She was also a part of a Christmas cooking competition for College of the Canyons in 2018.

Being a student journalist matters to her by being a part of something at school and getting to learn how to write, edit, and publish. She's learning about journalism and being more social, and it has been an exciting experience. She plans to go to the College of the Canyons and study Psychology, and get a Phd.