Golden Valley's Latest Football Prospect
A spotlight on Golden Valley Football's wide receiver, Ajani Smith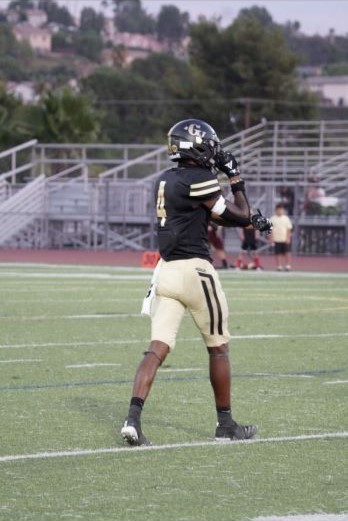 Golden Valley High School wide receiver, Ajani Smith, has had his talent scouted out by schools across the country. He currently holds 2 offers: one of those being from NCAA division I school Morgan State College, and the other from NCAA Division III school Benedictine College.
Ajani is a second-year varsity player, and has been playing at Golden Valley all 4 years of high school. 13 years ago, Ajani's step father introduced him to the game he devotes his life to and so meticulously works at. Ajani notes, " My step dad introduced football to me at a young age, and ever since I've had a soft spot for it in my heart." Like many other athletes, Ajani's spirit and inspiration also comes from his stepfather. His step father's achievements act as a goal for him and where he wants to end up with his skill. "My inspiration is my step dad, he always pushes me to do better than what he did and to chase my dreams."
Ajani already holds two offers, with plenty more on the way. One is from Benedictine College, located in Atchison, Kansas. They are a NCAA Division III school that currently is 2-1 this season. His second offer comes from the Division I school, Morgan State College, located in Baltimore, Maryland. Ajani is just picking up the pace as many predict more offers to come in the future.
His football career is extensive, and with that comes many different coaches. One of the coaches is Coach Edwards, a varsity coach for the football team at Golden Valley. Coach Edwards has been fortunate enough to be one of Ajani's many coaches at Golden Valley. "I actually coached Ajani in youth football, I think he was a 7th grader at the time. I've known him since then and I've coached him for the past 2 years as well." A keystone aspect to high school and team sports in general is the development of the players. This development occurs not only in skill, but in the athlete's character. Putting in extra work and time into your craft builds discipline and shows character on top of the skill. Coach says, "Number 1, he's grown as a person and he is a way more mature kid, particularly as a freshman, he was a bit of a knucklehead. But, he's come a long way and he's shown a lot of maturity, especially this year, and a lot of leadership." He continues by saying, "It's been really great seeing him become a young man." Coaches are a big part of a player's love and devotion to the game, and Coach Edwards has proven to help.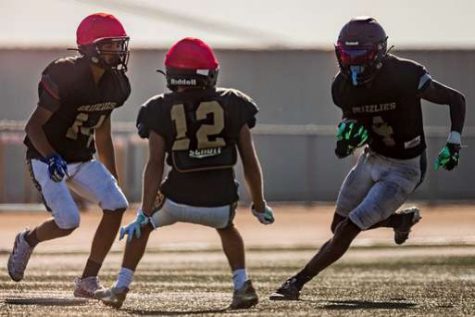 In the past two years playing varsity, Ajani has a total of 42 receptions and 8 touchdowns within 508 total yards. Ajani averages 39.1 yards per game, and on the special teams side of his play, he has a total of 359 yards between punt and kick returns. Defensively, Ajani has picked up 61 total tackles as a defensive back. These numbers are great so far, and are only projected to increase as the season progresses.
Team sports develop a sense of brotherhood, and football especially is notorious for team chemistry. In football, you have to have your teammates' backs and when you step on that field, be willing to do whatever it takes for them. Ajani's teammates, Donteo "Teo" Williams and Billy Hake describe their valuable relationship with Ajani. "…he is a very important factor to the GV Football team. Brings a lot of attention and excitement" Teo says. "He's very valuable on both sides of the ball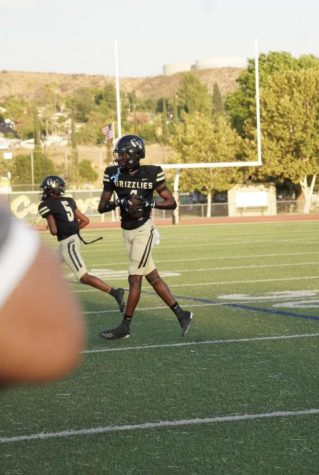 , defense and offense. Even on special teams as well he continues to make plays" Billy mentions. Billy also notes, "I believe he became more involved on offense and defense. And then he really wanted to pursue further on defense. I feel like he did that, he makes plays all over the field" when asked about Ajani's development.
In the past, Golden Valley has produced big name football prospects. Coach Edwards also got to see their upbringing and be their coach as well. Leon Jacobs, Outside Linebacker of the Jaguars was one of his athletes. Is Ajani the next to make it to the pros?
About the Contributor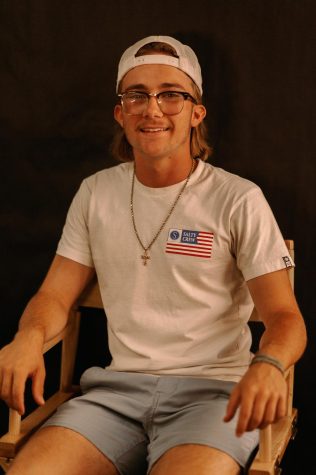 Joey Scattaglia, Managing Editor, Sports News


Hi! My name is Joey Scattaglia, I am a senior here at Golden Valley. I am one of two editors for the sports news team for our paper. I've played baseball all 4 years here at Golden Valley hoping for my best season yet. I'm also involved in the Sports Medicine club here on campus so I'm regularly helping at football games.

I'm excited to be a part of this news team because I  get to go in depth with the sports here at GV and highlight teams and players achievements. Outside of school, I love to go for drives, go fishing, and visit the beach as much as I can.