Golden Valley's Track Star Adonijah Currie: "In my last year, I want to leave everything on the track."
Golden Valley High School track runner, Adonijah Currie, is one of the stars at Golden Valley. Adonijah is on varsity girls track and a record holder for the school. Adonijah sets the record for the 200 M(23.45), 400 M(53.69) 4x400M (3:51.54). She has worked long and hard and became very successful. Adonijah has a couple of offers and is currently considering colleges.
Adonijah Currie got introduced to track her freshman year of high school. Before her freshman year, she had never done track before. She was a gymnast for about 12 years but broke her arm and couldn't continue gymnastics. She then decided to play basketball for Golden Valley, but then ended up getting a hip injury.
She never really planned on running track for a team. Adonijah states "I was mainly only going to do basketball but my mom told me I had to try track for a year because she thought I would be really good at it". Adonijah eventually started running track and became a great athlete runner.
This year Adonijah has had many accomplishments; this is her second year making the All-State Team. She is one of the best sprinters in the class of 2023. She ran CA #1 and U.S. #6 with a time of 53.69 for the 400m which ranks CA #2 overall.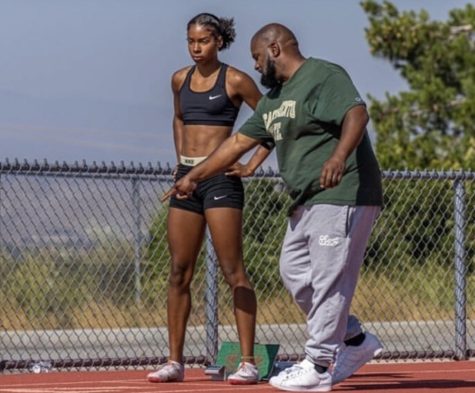 She ran 200m with a personal record of 23.82(1.6) to win at the Southern Section Division 2 Finals which ranked U.S. # 11.
Adonijah won 9 times at 200m including Mt. SAC(23.65/2.6), SS D-2 and SS Masters (23.45/2.2). Not to mention she won 4 out of races at 400m. Anchored CA #1 and U.S. #6 for her class in the 4x100m relay with a time of 45.82."
She ended the season with a U.S. ranked #6 personal record of 45.82. She was also top 6 for class of 2023 in the 100m.Adonijah and her teammates on the girls track team became 2022 Division 2 CIF champions, and even received rings for winning.
Adonijah never knew that she was going to run track on a team before. She was planning on doing gymnastics and eventually go to the olympics. Since being introduced to track, she has new goals.She explains "Some goals that I have are to really break more school records and lower my times down before I leave for college". Adonijah states she also hopes to go to the Olympics for track in 2024 and 2028.
Adonijah Currie has many offers from different colleges. A few offers are from Arizona State, Georgia Southern, University of Washington, Colorado State, California State Fresno, University of Nevada Las Vegas, San Jose State, University of Tennessee. Adonijah has been looking and visiting different colleges, viewing her options.
With her last season as a senior before college, Adonijah says "I just want to leave everything on the track this year for my last year. And really make more of a name for myself."'