A Deep Dive Into Campus Diversity: How Do We Live Up To Our Motto?
As advertised around the school, Golden Valley's motto is "Diversity is our strength, Unity is our goal."
Administrators, counselors, and club representatives have discussed the importance of embracing cultural diversity in school; however there are a wider range of needs that need to be met for the larger diversity.
The California Department of Education revealed that out of all high school students in the Hart District, Golden Valley is the most diverse. 60.1% of its students are Hispanic or Latino, and out of the English Learners, 91.90% know Spanish as their first language.
In addition to that, there are 27 different known and 13 unknown languages spoken at Golden Valley. As a result, GV has the biggest English Learners program, advised by Juan Cornejo and Monica Garcia.
"Students should not be expected to leave their culture outside the main gates," says English teacher Abigail Maimone. To help encourage this, students have opened up clubs that meet regularly to help educate any person willing to attend on the diverse history, importance, and culture of different ethnicities.
---
"
"I have a lot of pride for my latina heritage and I think GV is good at being welcoming to students from anywhere,""
— Leila Lemus, President, Latin American Vision
President of the Asian Student Union, Riya Patel, wants to "educate golden valley students on Asian culture as well as going over societal issues in different Asain societies but the main goal is to spread awareness and knowledge on Asian culture aspects."
Though the Asian population at Golden Valley is not the biggest, Asian and Filipino students make up roughly 11% of the school's population. The ASU plans to meet with other ASU's around the Hart District for a social event celebrating their Asian Culture.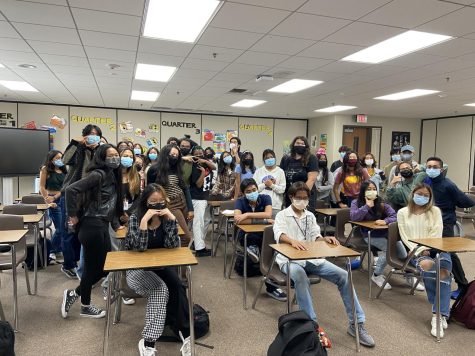 Other clubs, like Latin American Vision and the Black Student Union, have similar missions to create a very inclusive and friendly environment that embraces all cultures. They also strive to give students a safe place to bond and learn about cultures and current social issues.
"I have a lot of pride for my Latina heritage and I think GV is good at being welcoming to students from anywhere," says president of Latin American Vision Leila Lemus. Golden Valley has shown many examples of embracing and projecting diversity on campus.
"We have a lot of clubs that help support different cultures," says president of BSU Kayla Otis White. BSU meets on Thursdays during lunch and is growing more with every year. The BSU spreads awareness on black culture. They occasionally meet outside of school and even plan on watching the new Black Panther Movie as a group.
As a representative of her club, Kayla explains that "people should feel more inclined to join because it is one of the smaller clubs on campus and is welcome to anyone."
"
I want to learn more about my history and my roots from where I come from, and I want other people to be proud of where they come from, too"
— Delia Villanueva, President, Ballet Folklórico de Oro
During Hispanic Heritage Month, September 15th through October 15th, the Bear Necessities gave out aguas frescas every Thursday during lunch. On October 13th, Ballet Folklórico de Oro, another club at Golden Valley, performed traditional Latin American dances in the upper quad on campus.
GVTV also hosted a segment on Hispanic culture and pride on October 14th to close the celebration.
Ballet Folklórico de Oro seeks to project traditional Latin American dances to perform for the school as a way of honoring different cultures. The club plans to have more performances throughout the year, and have already made a great impression of themselves since their first performance.
Delia Villanueva says that "Some people don't know what it is until they actually see it, and a lot of people came in and supported which was amazing."
Her personal reasoning for being a part of and leading the club is: "I want to learn more about my history and my roots from where I come from and I want other people to be proud of where they come from too." Delia, and all the other presidents and clubs, are big contributors to why students feel inclined to come to Golden Valley in search of inclusiveness and why it is seen as a place where diversity can grow and be accepted.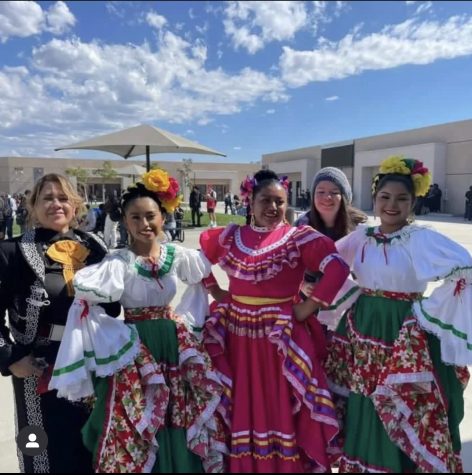 Clubs are open to anyone interested in visiting and learning. To these groups, it is not only important for students of the same culture to be informed, but meetings are always welcome for every student to visit and learn about events and history of ethnicities around the world and in our country.
Information on clubs and meeting times are posted on the GV Website under activities.
---
Regarding academic programs at Golden Valley, the English Learners program provides support for students that need to develop their skills in English if it is not their first language.
When asked about his role with the program, Mr. Cornejo claims "My job as an advisor is to figure out how to support EL's in their language." Mr. Cornejo is also a counselor at GV and hangs up flags in his office to represent every student's culture as well as show pride for every ethnicity.
When asked about possible issues in the program, Cornejo says, "We don't have translators in every class which is unfortunate because we can't provide the service that students need. My frustration is that the district needs to raise the wage on these positions so that our students can get the assistance that they need."
"It's scary coming to a new school where you aren't fluent in the primary language, it can be disconnecting and many can feel lost amongst the 2,000. But students have an easier time finding their people and finding friends because they share that pride for their culture," notes President of LAV Leila Lemus.
---
Despite the district wide issues with support for EL students, Golden Valley has already seen progress in trying to help EL students feel more welcome and making the campus as inclusive as possible.
More students from the EL program have joined sports and different clubs than Golden Valley has had in prior years.
Additionally, there are academic classes for students coming from different countries to tend to their different skill levels and help them be more successful which no other school in the Hart District provides.
"I have a very special place in my heart for the EL program," says Dr. Delgado, one of the assistant principals at GV who oversees the EL program and students.
"Sometimes it can be hard to get students to want to be a part of the school because of the overwhelmingness of coming into a new country or learning a new language. However, Golden Valley wants to be a place where any student can come and get the assistance and support that they need to be successful." says Dr. Delgado.
"Unique lived experiences are our strength." says Abigail Maimone. Despite the struggles that can come with a school with such a wide diversity of students, Golden Valley has made it a top priority to give all students the opportunity to be a part of anything in school, and feel as though their culture is not a burden, but instead something to be celebrated.
About the Contributor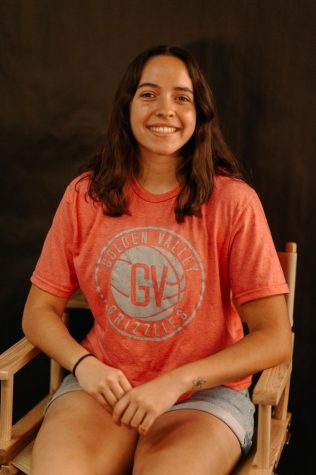 Genesis Perez, Staff Writer- Campus News
Genesis Perez is a Senior with a position as a staff writer for Campus News Team. She is involved in Golden Valley Girls Basketball and CSF. With experience in a leadership role as team captain of her team and being involved in group extracurricular activities like choir, being a writer for the school newspaper was an easy yes.

Though she covers campus news, she has a passion for the arts and is excited to cover events like school plays. A goal of hers is to express her point of view on students and places in Santa Clarita that are involved in the arts and explore the different cultures that are present in Golden Valley.

Being a student journalist this year is very important because this is the foundational year for the paper to really kick off. Being a part of the main structure and setting the culture is really exciting and will definitely be the most rewarding part of being a part of the paper.