Rewarding Side Hustle That Benefits the Youth of Your Community
Enjoy baseball and making money? I have just the job for you. That job being, umpiring at the Hart baseball complexes in Valencia for both behind the plate or on the bases.
Behind the plate, there is a specific list of responsibilities.. The list of priorities includes determining balls and strikes, determining whether or not a ball is fair or foul, if a play results in catch or no catch, and if a runner is safe or out.
The list of priorities on the bases is the same, even balls and strikes. They are used at the Hart PONY complexes from the Pinto division, ages 7 and 8, to the Colt division, ages 13 and 14. There is a 2 man crew from Mustang, 9 to 10 and older.
The complex will currently accept anyone of any age. For perspective, some of the new umpires are 15, some are librarians, and some are retired. Frank Cantu, who had coached since he was 18 and played baseball and softball for 50+ years before he had started umpiring, said he joined the roster of umpires at Hart because it was "the first time in 50 years I wasn't playing or coaching." Many other umpires and I started on the roster when they started when we were 15 or 16 years old.
Another benefit of the gig is that umpires make $50 for plate for Mustang and $45 for base on Mustang, and it keeps going up from there. After 1 hour and 45 minutes, the next inning cannot begin, but the game is not over because the current inning must be completed. This causes the umpires to make more than the minimum wage. Chris Racina mentioned "It's honestly a great job to help high school and college kids. It works around busy school and extracurricular activities."
As long as you set your blocks saying what days and times you can work, you will get anywhere from 2-7 games a week. The new umpires have to work Mustang games and Pinto games when there are enough umpires to assign pinto. The ability to choose your own hours is an enticing reason why people umpire. Warren Goenner Jr., an umpire who currently plays baseball at Canyon High School says, "I started umpiring because I can make my own hours. With baseball, I can only work limited hours. Umpiring lets me block out times I can't umpire." As previously stated, as long as you set blocks accordingly, the assignors will be happy with you and give you games to work. Warren was later quoted saying "It's also easy money for something you can find fun."
It also benefits the players as Hart umpires uphold their mission statement, "To Apply the Rules of Baseball Without Bias So That Neither Team Has an Unfair Advantage Over the Other." The umpires at Hart do this as well as they can. They are very knowledgeable about the rules as they are told to know the rules in the MLB, PONY, and Hart rule books. This can be observed most clearly with umpire Warren Goenner Sr, who has been umpiring for 7 years. When his son was playing, the previous head assigner did not give him the same division of play his son was a part of, so if Warren Jr. was in Bronco, Warren Sr. was not assigned any Bronco games. This is still true because coaches who take on the challenge of umpiring still cannot do the division their child or team is in.
"
My son encouraged me to join to do something together, father and son. I enjoyed it so I continued. Started doing the high school unit, and later I was selected to work the 2022 D1 finals at Dodger Stadium."
— Chris Racina
Umpiring also helps to deepen your understanding of the game of baseball and creates a domino effect of knowledge and passion. Frank Cantu, a coach since 1972, said "…However, understanding the better rules would certainly make us all better coaches." This would also help the children because if their coaches had a better understanding of the rules of baseball, then they would play by the rules. When children are taught to play sports by the rules correctly, the games go smoother, there are fewer arguments between coaches and umpires, and it causes players to be better as well.
Warren Goenner stated, "If you play baseball, I recommend becoming an umpire or even going through training to become one, so you learn the rules and how the strike zone is." Both Frank Cantu and Chris Racina have said they thought they knew the rules of baseball, but once they started umpiring, they realized that they really had very little idea of how to actually play the game. Chris Racina told me "Honestly as a player and coach I thought, I knew the rules. Becoming an umpire, I realized I didn't know the rules."
There is a lack of umpires everywhere currently, but can be seen most prominently at the Hart complex in Valencia. This is due to a plethora of reasons, but one of the prolific reasons is verbal abuse by parents and coaches, especially to young umpires. This is harming the kids playing at Hart. This lack of umpires is causing the head assigner, Chris Racina, to not have enough people to fill the spots needed to have umpires in these games. Chris Racina has stated that "we need 10+ new umpires to come in to be able to assign every pinto game."
Although umpires get a lot of backtalk from parents, coaches, and players, the umpires will be trained enough and well-versed in the rules to help them be as confident on the field and in their rulings. Chris Racina has been umpiring for 9 years and said "I quickly learned that knowledge of the rules gives an umpire confidence on the field." Sometimes all you need is confidence in order to do what you need to do well. Coaches often see the confidence and do not question the umpire because of it. Confidence in your calls on the field causes people to back off.
Chris has also stated, "As an umpire for Hart, it helps you learn to deal with people, problems, and gets you involved in the community."
Umpiring can even open the door for other opportunities, not just baseball related, but life skills and connections. The other umpires have said that they will write letters of recommendation for younger umpires that are trying to get into colleges and be a reference on a job application if you are a reliable umpire that they can count on. However, it could be umpire related because some have gone on to do high school umpiring, and even go onto umpire in the minor leagues. Chris Racina and multiple other umpires do high school games. Chris said, "My son encouraged me to join to do something together, father and son. I enjoyed it so I continued. Started doing the high school unit, and later I was selected to work the 2022 D1 finals at Dodger Stadium." Umpiring has opened many doors for many of the umpires as seen by what Chris has said. Another umpire that started at Hart is Chad Lagana, now he is an umpire for the minor leagues and just finished his second year of rookie ball.
With all pros and cons of umpiring lined up together, there is no reason people should not come out to make some extra money. Although the window to become an umpire for the spring season for Hart is closed,, you can still come and become a Hart umpire for the fall season. Training for the fall season starts in late August to Early September. The other umpires and I hope to see new faces in the fall 2023 season to enjoy this rewarding job and be a part of our baseball family.
About the Contributor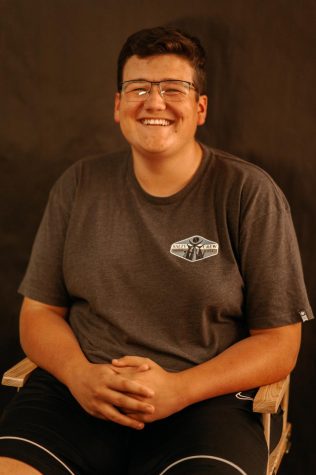 Donovan Swanson, Managing Editor, Sports News


Donovan Swanson is the managing editor for the sports section of The Grizzly Gazette. He is a senior and has attended Golden Valley since freshman year. He wishes to cover the football team and baseball team in his stories. In his freshman and sophomore years, he played baseball and in his junior year, he joined the sports broadcasting. His favorite sports are football and baseball. As a career, he wishes to become a stats analyst for baseball or football.

His favorite baseball team is the Los Angeles Angels of Anaheim and his favorite football team is the Miami Dolphins. His favorite baseball players are Mike Trout and Shohei Ohtani because they carry that horrible team to a mediocre status, if the Angels did not have them, they might be the worst team in the MLB. His favorite football player is Dan Marino because he was the best quarterback Miami has ever had, and even though he has no rings to prove it, he is one of the best QBs of all time.